More Civil War Women Fighters
This article relates to Liar, Temptress, Soldier, Spy
In addition to the four women profiled by Karen Abbott in Liar, Temptress, Soldier, Spy, many others had well-documented military careers. Some of these famous female soldiers include: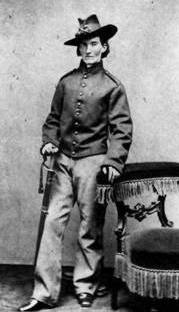 Frances Clalin enlisted as Jack Williams. A Minnesota farmer's wife and mother of three, Clalin signed up to be with her husband, Elmer. Her fellow soldiers considered her a "hard-drinking, tobacco-chewing, foul-mouthed son of a gun" who was also an outstanding horseman, deadly with a sword and an expert poker player. She fought in 18 battles, was wounded three times and taken prisoner once. When Elmer was killed a few feet in front of her at the Battle of Stones River on December 31, 1862, legend has it that she stepped over his body and charged when the order was given.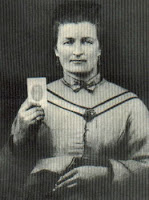 Also joining with her husband was Sarah Malinda Pritchard who enlisted in the Confederacy masquerading as Samuel "Sammy" Blalock, her husband Keith's younger brother. The couple were Union sympathizers but as a N. Carolina resident Keith was "strongly encouraged" to join the army of the South. Their chance to abandon the cause came when Sarah was wounded in the left shoulder and expected to be exposed any minute. Keith rubbed poison oak all over himself to feign illness, and thinking he had smallpox the regiment's physician granted him a medical discharge. Sarah admitted her true identity shortly thereafter and was also discharged (although she was forced to return her $50 enlistment bonus). The couple then proceeded to fight for the Union, first as members of a guerrilla squadron and later, leading Union sympathizers and escaped prisoners through the Blue Ridge and Great Smoky Mountains to safety in the North.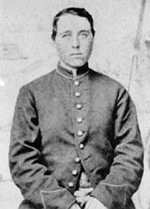 Jennie Hodgers was an Irish-born immigrant who enlisted in the 95th Illinois Infantry under the name Albert Cashier. It's estimated she fought in over 40 battles including the siege at Vicksburg and the Red River Campaign. She was captured once but escaped by overpowering a guard. When the war ended Hodgers maintained her masculine identity; she settled in Illinois where she variously worked as a farmhand, church janitor, cemetery worker and lamplighter. When asked later in life why she'd decided to maintain the ruse, she said that as a man she could vote and claim a veteran's pension – both denied to women at the time. She was hit by a car in 1910 and broke her leg, but her physician kept her secret, and in 1911 she moved into the Soldiers and Sailors home in Quincy, Ilinois, where they likewise allowed her to maintain her male identity. Suffering from dementia, however, she was later moved to the Waterton State Hospital for the Insane where her gender was revealed and for the first time in decades she was forced to wear a dress. Somehow the press got wind of the story and published the scandal, and the government charged her with fraud for receiving a pension as Cashier. Remaining members of the 95th Illinois defended her, however, telling stories of her bravery and willingness to undertake dangerous missions. The government relented and she did receive her pension, and when she died in 1915 was buried in her Union uniform.

Mary and Mollie Bell were cousins who grew up in rural Virginia. Angry that an uncle had joined the Union army, Mollie, then 22 and excessively patriotic, devised a plan to compensate for his disloyalty: She would disguise herself as a man and join the Confederacy. She convinced Mary, just 15 at the time, to join her. Fighting as Privates Tom Parker and Bob Martin (also called Bob Morgan) they were known to have been exemplary soldiers; while on picket duty "Martin" killed three Union soldiers and was promoted to Sergeant. They decided they needed to reveal their identities to someone in authority so they would have some protection, and chose their captain. Unfortunately the officer was captured, and at that point the girls confided in a lieutenant. Rather than keep their secret, though, he informed General Early who promptly had them arrested as prostitutes (in spite of their having served under him with distinction for two years). They were sent to Castle Thunder, a prison in Richmond, where they were incarcerated for three weeks before being sent back home.

Sara Rosetta Wakeman left home at the age of 19 disguised as a man and worked as a boatman on a coal barge to earn money to support her eight siblings. A recruiter offered her $152 to enlist, and so she signed with the 153rd New York Infantry Regiment taking the name Lyons Wakeman. She fought in several battles until contracting dysentery, and died in June 1864 after battling the illness for several weeks. She was buried as Lyons Wakeman at the Chalmette National Cemetery near New Orleans, where her true identity remained under wraps for decades. More than a century later her letters were discovered in the attic of her family home, finally revealing her secret. The correspondence, published in 1994, is the "only known collection of letters by a Civil War woman soldier," accoring to The Washington Post.


Picture of Clalin from Civil War Women blog
Picture of Pritchard from Civil War Soldier Women blog
Picture of Hodgers from Civilwar.org

Filed under People, Eras & Events
This "beyond the book article" relates to Liar, Temptress, Soldier, Spy. It originally ran in September 2014 and has been updated for the September 2015 paperback edition. Go to magazine.
This review is available to non-members for a limited time. For full access become a member today.
Membership Advantages
Reviews
"Beyond the Book" articles
Free books to read and review (US only)
Find books by time period, setting & theme
Read-alike suggestions by book and author
Book club discussions
and much more!
Just $12 for 3 months or $39 for a year.