The world could use a lot more of your stories of miraculous dogs of war. Below, you'll find two other dogs, equally as brave as Antis in The Dog Who Could Fly, who I hope will spark your interest. The sooner, the better.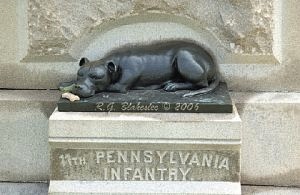 First, there is Sallie Ann Jarrett, believed to be a bulldog or bull terrier, taken in by the Eleventh Regiment of Pennsylvania Volunteers in May 1861. She was named after Colonel P. Jarrett, commander of the company, and became their mascot for the Civil War.

She learned the drum rolls and bugle calls of the company and was present at drills and marches. Even after she gave birth to nine pups on March 7, 1862, she nursed them only in between military gatherings. On the battlefield, she stood guard over fallen soldiers and licked the hands of those who were still alive. But on the night of February 5, 1865, Sallie kept the men in her tent awake with mournful crying. The next morning, the regiment went into battle at Petersburg, Virginia, a vicious fight that ...