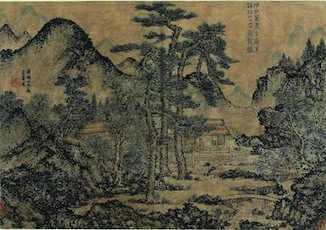 The primary protagonist in The Ten Thousand Things is modeled after a real-life Chinese landscape painter and government official, Wang Meng.

After the Song dynasty was overthrown, many landscape painters working during the Mongol Yuan dynasty that followed formed part of the "literati." These were artists who worked solely on cultural pursuits either as a result of a decrease in the availability of governmental posts or because they refused to serve the alien rulers. While not working for the Yuan dynasty was itself an act of political subversion, these artists went further, hosting retreats in their homes and using symbolism in their paintings to depict the constraints of life under foreign rule. For example, a person rowing a boat could be construed as an escape from the harsh political realities of the time.
Of these literati painters, four were particularly prominent and are now known as The Four Yuan Masters. Wang Meng is one of them, with the other three being Ni Zan (the ...