Beyond the Book:
Take A Book, Leave A Book—The Little Free Library Movement
In Lorrie Moore's story "Wings," the main character K.C. goes for a walk and meets an elderly man building what looks like a little bird feeder at the end of his driveway. He tells her it's a Book Nook, that he's going to put books inside for people to take, like a little library. A little free library.

These Little Free Libraries are part of a grassroots movement started in 2009 by Todd Bol of Hudson, Wisconsin. In honor of his mother, who had been a school teacher and loved reading, Todd built the first one in the shape of a one-room school house, filled it with books and put it in his front yard with a sign that read "Free Books." After building several more and giving them away to be put to similar use, he met and partnered with Rick Brooks, of Madison WI, a proponent of green practices and local economies. Their Little Free Libraries non-profit venture was inspired by Andrew Carnegie's support of 2,509 free public libraries in the late 1800s/early 1900s; by Miss Lutie Sterns, a librarian whose "traveling little libraries" delivered books to 1,400 locations around Wisconsin during that same period of time; and the more recent "take a book leave a book" movement in cafes and public spaces.

Originally called "Habitats For The Humanities" and "House of Stories," the Little Free Library initiative quickly grew into a much bigger movement with a stated mission to: "promote literacy and the love of reading by building free book exchanges worldwide." And to "build a sense of community as we share skills, creativity and wisdom across generations."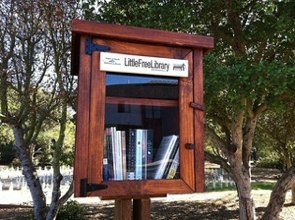 As new Little Free Libraries started showing up around the Midwest, word-of-mouth marketing has carried the concept out into the broader world. A loyal group of volunteers has worked to spread and support the movement. Small grants, informal business partnerships and alliances and crowdsourcing have helped the Little Free Library's ability to meet growing demands. Just five years after the first Little Free Library, there are more than 10,000 worldwide in at least 28 states and six countries including Ghana, Australia and Afghanistan. They're found in front of homes, health centers, cafes, bus stops, store fronts, laundromats, bike paths and dog parks. Each Little Free Library is unique and often makes use of recycled materials like metal milk cartons, fruit crates, old barn wood, and bread boxes. In Louisiana, some little libraries have been built out of debris from Hurricane Katrina. They tend to be local-themed, colorful and artistic. Some look like birdhouses, some like doll houses, some are built with a theme from a favorite book like Jack In The Beanstalk, while others are tiny reproductions of some local landmark.

Beyond the sharing of books and the promotion of literacy, these Little Free Libraries are also creating community. Neighbors are getting to know each other as they stop and exchange books and book talk.

If you (or your book club) are interested in making a Little Free Library of your own, visit the organization's website for suggestions. You can also buy kits starting at around $100 and find out if there's one in your area. Or if you'd just like to support the movement, money donated to this non-profit helps build libraries in needy communities and developing countries. The website says, "If you need help let us know. Don't let money get in the way."


Picture of Little Free Library from Little Free Library's BookusBinder Flickr Stream.

This article was originally published in March 2014, and has been updated for the October 2014 paperback release. Click here to go to this issue.
This article is available to non-members for a limited time. You can also read these articles for free. For full access, become a member today.
Membership Advantages
Reviews
"Beyond the Book" backstories
Free books to read and review (US only)
Find books by time period, setting & theme
Read-alike suggestions by book and author
Book club discussions
and much more!
Just $10 for 3 months or $35 for a year