Systematic Euthanasia
This article relates to Motherland
In Motherland, one of the brothers, Ani, is a patient at a hospital in Hadamar, which was notorious for implementing the Nazis' systematic euthanasia program.

Darwin's theory of evolution through natural selection had the unintended consequence of giving birth to Social Darwinism – determining the course of human evolution through selective breeding, otherwise known as eugenics. The idea was very popular in Europe and particularly the United States in the early part of the 20th century. Several countries (including the USA) developed policies whereby those with hereditary mental or physical defects could be sterilized to prevent them from "contaminating" the general population.

In Germany, the National Socialists (Nazis) put "racial hygiene" policies in place as soon as they gained control of the country with the goal of cleansing Germany of undesirable elements and thereby eventually producing a race of superior beings. July 1933 saw the enactment of the "Law for the Prevention of Hereditarily Diseased Offspring," which mandated sterilization not only for people with disabilities, but those with other conditions thought to be hereditary such as schizophrenia and epilepsy. The regulation also applied to individuals with chronic alcoholism and anyone found to be a "social deviant." It's estimated that 360,000 people were sterilized under this law between 1933 and 1939.

The policy of sterilization progressed into one of euthanasia after the start of WWII in 1939. Resources were needed to support the troops, and it was considered wasteful to continue the support of those who could not contribute to the wellbeing of the state. In Berlin, Hitler issued a decree to establish the "Charitable Foundation for Curative and Institutional Care" to be formed under the auspices of Reich Leader Philipp Bouhler and Hitler's personal physician Dr. Karl Brandt. The decree stated that "Reich Leader Bouhler and Dr. Brandt are charged with the responsibility of enlarging the competence of certain physicians, designated by name, so that patients who, on the basis of human judgment, are considered incurable, can be granted mercy death after a discerning diagnosis." Together they developed and implemented the "Action T4," (named after the address of their headquarters: Tiergartenstrasse 4).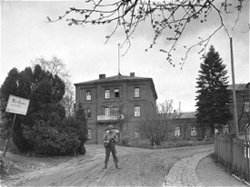 The first victims of the T4 program were German children deemed unfit to reproduce. Doctors and midwives were required to register newborns with disabilities. The children were removed to what parents were told were "Special Sections" where their offspring would receive better care, but they were in fact killed either by lethal injection or starvation. Parents received death certificates with plausible but completely false causes of death. T4 was soon expanded to include disabled adults. In October 1939 all hospitals, nursing homes and care facilities were required to begin reporting anyone who'd been institutionalized for five or more years.

As adults were added to the system, the authorities decided that injecting toxins into their "patients" was too slow, used drugs needed elsewhere, and the adults in particular were difficult to control. They consequently established Euthanasia Centers at six existing psychiatric hospitals, including Hadamar, mentioned extensively in Motherland. The first gassing took place at the Brandenburg Euthanasia Center in January 1940.

Although the authorities tried to keep the true nature of the centers secret, it was certainly noted that busloads of people arrived every day (up to 100 people per day at Hadamar) and yet no one ever left. Opposition arose, which the Nazis tried to counter with propaganda. According to life.org:
Propaganda minister Joseph Goebbels, marshalled the resources of the state-controlled media to persuade Germans that euthanasia was a humane social policy, the foundation for building the Master Race. Graphic pictures portrayed mentally ill and disabled "subhumans" in a series of powerful and popular films, to reinforce the message.

In the popular film "I Accuse", an attractive woman suffering from multiple sclerosis was gently killed by her loving husband.

German school children studied maths problems and calculated how many services, how much bread, jam, and other necessities of life could be saved by killing people - the chronically sick and crippled - who were a "drain on society."
T4 was officially stopped on 24 August 1941 at Hitler's orders and the gas chambers were dismantled. Most staff members were sent to Poland to use what they'd learned to set up death camps to enact Hitler's "Final Solution" (the extermination of the entire Jewish population). Systematic euthanasia resumed shortly thereafter, however, returning to killing men, women and children with lethal injection and starvation. It continued beyond the war's end on 8 May 1945, with the last child, a four-year-old with mental disabilities, being killed by injection on 29 May 1945. It's estimated that 200,000 - 275,000 Germans were killed under T4 and subsequent euthanasia programs.


Picture of Hadamar facility Courtesy of Rosanne Bass Fulton; US Holocaust Memorial Museum

This "beyond the book article" relates to Motherland. It originally ran in January 2014 and has been updated for the January 2015 paperback edition. Go to magazine.
This review is available to non-members for a limited time. For full access become a member today.
Membership Advantages
Reviews
"Beyond the Book" articles
Free books to read and review (US only)
Find books by time period, setting & theme
Read-alike suggestions by book and author
Book club discussions
and much more!
Just $12 for 3 months or $39 for a year