The Luminaries is set in the New Zealand town of Hokitika during the nineteenth century gold rush. Hokitika is located on the west coast of New Zealand's South Island, which is one of three areas in the country where gold was found to be in sufficient quantity to mine.

Rumors of gold in a small part of New Zealand's North Island surfaced in the 1820s, but it wasn't until the first substantial discovery in 1852 in the center of the South Island that the search for gold began in earnest. The majority of New Zealand miners were British—coming most recently from the goldmines of the southern Australian state of Victoria. Chinese immigrants participated in the exploration as well as native Maoris.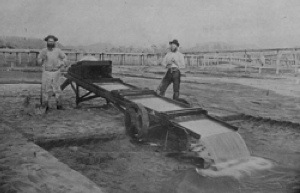 Gold mining was a tough endeavor in New Zealand. The weather was often cold, the water sometimes icy, and there were no roads. Miners had to cut their way through thick brush. The gold was scattered over a large geographic area, requiring great amounts of persistence and hard ...