Dear Ed,

In a sec you'll hear a thunk. At your front door, the one nobody uses. It'll rattle the hinges a bit when it lands, because it's so weighty and important, a little jangle along with the thunk, and Joan will look up from whatever she's cooking. She will look down in her saucepan, worried that if she goes to see what it is it'll boil over. I can see her frown in the reflection of the bubbly sauce or whatnot. But she'll go, she'll go and see. You won't, Ed. You wouldn't. You're upstairs probably, sweaty and alone. You should be taking a shower, but you're heartbroken on the bed, I hope, so it's your sister, Joan, who will open the door even though the thunk's for you. You won't even know or hear what's being dumped at your door. You won't even know why it even happened.

It's a beautiful day, sunny and whatnot. The sort of day when you think everything will be all right, etc. Not the right day for this, not for us, who went out when it rains, from October 5 until November 12. But it's December now, and the sky is bright, and it's clear to me. I'm telling you why we broke up, Ed. I'm writing it in this letter, the whole truth of why it happened. And the truth is that I goddamn loved you so much.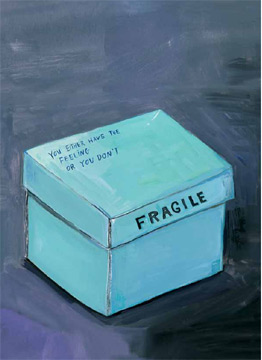 The thunk is the box, Ed. This is what I am leaving you. I found it down in the basement, just grabbed the box when all of our things were too much for my bed stand drawer. Plus I thought my mom would find some of the things, because she's a snoop for my secrets. So it all went into the box and the box went into my closet with some shoes on top of it I never wear. Every last souvenir of the love we had, the prizes and the debris of this relationship, like the glitter in the gutter when the parade has passed, all the everything and whatnot kicked to the curb. I'm dumping the whole box back into your life, Ed, every item of you and me. I'm dumping this box on your porch, Ed, but it is you, Ed, who is getting dumped.

The thunk, I admit it, will make me smile. A rare thing lately. Lately I've been like Aimeé Rondelé in The Sky Cries Too, a movie, French, you haven't seen. She plays an assassin and dress designer, and she only smiles twice in the whole film. Once is when the kingpin who killed her father gets thrown off the building, which is not the time I'm thinking of. It's the time at the end, when she finally has the envelope with the photographs and burns it unopened in the gorgeous ashtray and she knows it's over and lights a cigarette and stands in that perfect green of a dress watching the blackbirds swarm and flurry around the church spire. I can see it. The world is right again, is the smile. I loved you and now here's back your stuff, out of my life like you belong, is the smile. I know you can't see it, not you, Ed, but maybe if I tell you the whole plot you'll understand it this once, because even now I want you to see it. I don't love you anymore, of course I don't, but still there's something I can show you. You know I want to be a director, but you could never truly see the movies in my head and that, Ed, is why we broke up.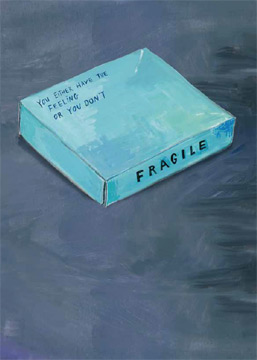 I wrote my favorite quote on the lid of this box, from Hawk Davies, who is a legend, and I'm writing this letter with the lid of this box as a desk so I can feel Hawk Davies flowing through every word I write to you. Al's father's shop's truck rattles so sometimes the words are shaky, so that's your tough luck as you read every word of this. I called Al this morning, and right away when I said, "Guess what?" he said, "You're going to ask me to help you run an errand in my dad's truck."

Excerpted from Why We Broke Up by Daniel Handler and Maira Kalman. Copyright © 2011 by Daniel Handler and Maira Kalman. Excerpted by permission of Little, Brown Books for Young Readers. All rights reserved. No part of this excerpt may be reproduced or reprinted without permission in writing from the publisher.