"You're good at guessing," I said. "That's very close."

"Close?"

"OK, yes, that's it."

"OK, give me a sec to find my keys and I'll pick you up."

"They should be in your jacket, from last night."

"You're good too."

"Don't you want to know what the errand is?"

"You can tell me when I get there."

"I want to tell you now."

"It doesn't matter, Min," he said.

"Call me La Desperada," I said.

"What?"

"I'm giving back Ed's stuff." I said it after a deep breath,

and then I heard him take one, too.

"Finally."

"Yeah. My end of the deal, right?"

"When you're ready, yeah. So, you're ready?"

Another one, deeper but shakier. "Yes."

"Are you sad about it?"

"No."

"Min."

"OK, yes."

"OK, I have my keys. Five minutes."

"OK."

"OK?"

"It's just that I'm looking at the quote on the box. You know, Hawk Davies. You either have the feeling or you don't."

"Five minutes, Min."

"Al, I'm sorry. I shouldn't have even - "

"Min, it's OK."

"You don't have to. It's just that the box is so heavy I don't know - "

"It's OK, Min. And of course I have to."

"Why?"

He sighed through the phone and I kept staring at the top of the box. I'll miss seeing the quote when I open my closet, but I will not, Ed, I don't miss you. "Because, Min," Al said, "the keys were right in my jacket, where you said they'd be."

Al is a good, good person, Ed. It was Al's party where you and I first met, not that he invited you because he had no opinion of you then and so didn't invite you or any of your grunty jock crowd to his Bitter Sixteen party. I left school early to help him with the dandelion green pesto made with gorgonzola cheese instead of parmesan for extra bitterness that we served on top of the squid ink gnocchi from his dad's shop and mix up the blood orange vinaigrette for the fruit salad and cook up that huge 89 percent cacao dark chocolate cake in the shape of a big black heart so bitter we couldn't really eat it, but you just waltzed in uninvited with Trevor and Christian and all them to skulk in the corner and not touch anything except, like, nine bottles of Scarpia's Bitter Black Ale. I was a good guest, Ed, and you didn't even say "bitter birthday" to your host and give a present, and that is why we broke up.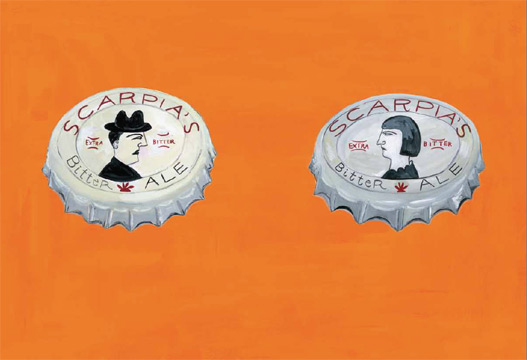 These are the caps from the bottles of Scarpia's Bitter Black Ale that you and I drank in Al's backyard that night. I can see the stars bright and prickly and our breathing steamy in the cold, you in your team jacket and me in that cardigan of Al's I always borrow at his house. He had it waiting, clean and folded, when I went upstairs with him to give him his present before the guests arrived.

"I told you I didn't want a present," Al said. "The party was enough I told you, without the obligatory - "

"It's not obligatory," I said, having used the same vocabulary flash cards with Al when we were freshmen. "I found something. It's perfect. Open it."

He took the bag from me, nervous.

"Come on, happy birthday."

"What is it?"

"Your heart's desire. I hope. Open it. You're driving me crazy."

Rustle rustle rip, and he sort of gasped. It was very satisfying.

"Where did you find this?"

"Does it not," I said, "I mean exactly, look like what the guy wears in the party scene in Una settimana straordinaria?"

He smiled into the slender box. It was a necktie, dark green with modern diamond shapes stitched into it in a line. It'd been in my sock drawer for months, waiting. "Take it out," I said. "Wear it tonight. Does it not, exactly?" "When he gets out of the Porcini XL10," he said, but he was looking at me.

Excerpted from Why We Broke Up by Daniel Handler and Maira Kalman. Copyright © 2011 by Daniel Handler and Maira Kalman. Excerpted by permission of Little, Brown Books for Young Readers. All rights reserved. No part of this excerpt may be reproduced or reprinted without permission in writing from the publisher.