In addition to reviewing books, BookBrowse goes "beyond the book" to explore interesting aspects relating to each book we feature. Here is a "Beyond the Book" feature written to complement our review of Spell It Out by David Crystal

David Crystal is a prolific scholar of linguistics who specializes in language pathology, phonetics, and linguistic disability.

What I admire most about Crystal's scholarship in Spell It Out is its humanity. He never loses sight of language as a form of human expression—whether through orthography or pronunciation.

Consider for example, the history of the word, "ghost":
"Why is there an h here? And in ghastly, aghast and the whole family of related words –– ghostly, ghostliness, ghastliness, ghostbusters and so on? It wasn't there when the word first came into English. In Anglo-Saxon England we find it used in the form gast, with a long 'ah' vowel...But there was no h in the Anglo-Saxon spelling: the Holy Ghost was a Hali Gast. Nor was there an h in the word in Chaucer's time…Then along came Caxton [William Caxton, the first printer and publisher of books in England], who sets up his printing-shop. But who was to carry out the painstaking task of typesetting the new books, letter by letter? There was nobody capable of doing it in England. Caxton had learned his trade on the European mainland…so he looked to the Continent for help. We know the name of one of his assistants, Wynkyn de Worde. He and the other compositors…all spoke Flemish."
Crystal points out that the Flemish-speaking typesetters were on their own: "There were no dictionaries or house style guides to help them choose which spellings to use. In Bruges they would all have been used to reading manuscripts in Flemish spelling. So, if a word reminded them of its Flemish counterpart, why not spell it the Flemish way?"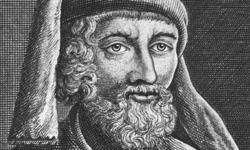 And so Caxton refers to the "Holy Ghoost," and "ghost" appears in his printing of Chaucer's "House of Fame." This spelling looked "right" to the Flemish printers and, Crystal reports, soon looked "right" to everyone else: "…by the end of the 16th century everyone was using the new form. Hamlet's dead father is a ghost, not a gost. And slowly the h spread to related words. Aghast appears first in the 15th century, and eventually replaces agast. Ghastly replaces gastly."

Even today contemporary Wynkyn de Wordes are inventing new spellings for old words - in books or perhaps while texting or Tweeting - that will someday catch on as "ghost" did and exert their own "ghostly" influence on other words as well.


By Jo Perry, first published on BookBrowse as the "beyond the book" article relating to Spell It Out by David Crystal

Picture of Caxton from Unrealcityaudio