What's the right number of pages for a book club book? Should your group set a page limit for the titles you read? In our most recent annual survey, we asked subscribers how their clubs factor the length of books into their selection process. Below, we'll explore their answers and the significance of page count for book clubs in general.
How do most book groups handle page count?
As it turns out, very few of our respondents' book clubs have a hard rule when it comes to page count. More than 80% have no official maximum, and less than 1% have a set maximum that they never exceed. But that's not to say that book length doesn't matter. Among those whose clubs have no official maximum, 46% said they are open to discussing books of any length, while 37% noted that while they have no limit, members sometimes complain that a book is too long. Additionally, 12% said they have a guideline regarding the number of pages, but are willing to make exceptions.

So it appears that most groups are flexible on page count, but the length of a book still affects the book club experience for many. Here are a few points that you may want to consider when selecting books for your own club:
How many pages a day would somebody have to read to get through the book you're considering in the time available? Is this reasonable and realistic for everyone?



Have members ever had trouble finishing books due to length, or complained about books being too long?



Has the length of a book affected the quality of a discussion or participation level?
What's the best length for a book club read?
The ideal book length will vary from group to group — but, you may be wondering, what's a good ballpark number of pages to aim for?

Although very few book groups have a hard rule about their maximum page count, about half of respondents said that their group prefers to stay below a certain threshold, and for most that is below 400 pages.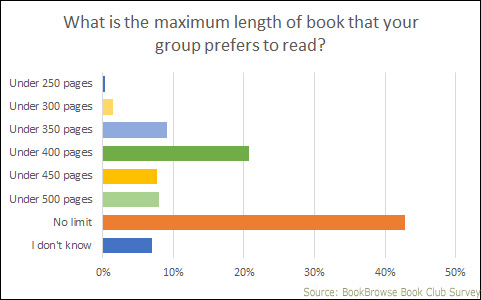 When contemplating the length of a book, an important factor to consider is the genre and subject matter. Some books, like thrillers, are considered "fast" reads due to their pace, regardless of the number of pages. Others, like dense nonfiction books, will take more time to digest.
How to discuss a longer book
If you're planning to read a heftier title, you may want to consider:
Building a schedule that accounts for length. Consider stretching out the time between meetings if reading a particularly long or dense book. For example, if your group generally skips a meeting in the summer, this could be a good time to schedule a longer book.



Breaking the discussion into more than one meeting. Splitting a book in two can feel a bit like being back in school and being told you can't read ahead because the class is focused on discussing a particular chapter; and we wouldn't recommend it for books that jump back and forth in time, but it can work for some books that are written in a linear style, especially ones that are already structured into sections. Just make sure you agree ahead of time on which parts are fair game for discussion to avoid spoilers from those who read ahead!
How to find books of the appropriate length
For books that are almost certain to be acceptable to any book group concerned about page count, you can check out our recommended list of short books for book clubs, or browse the hundreds of titles we have in our 250 Pages or Less category.

And if your club ever wants to seek out longer books, we invite you to peruse the doorstoppers in our 500+ Pages category!
The above is based on a February 2023 survey of 1268 book club members.