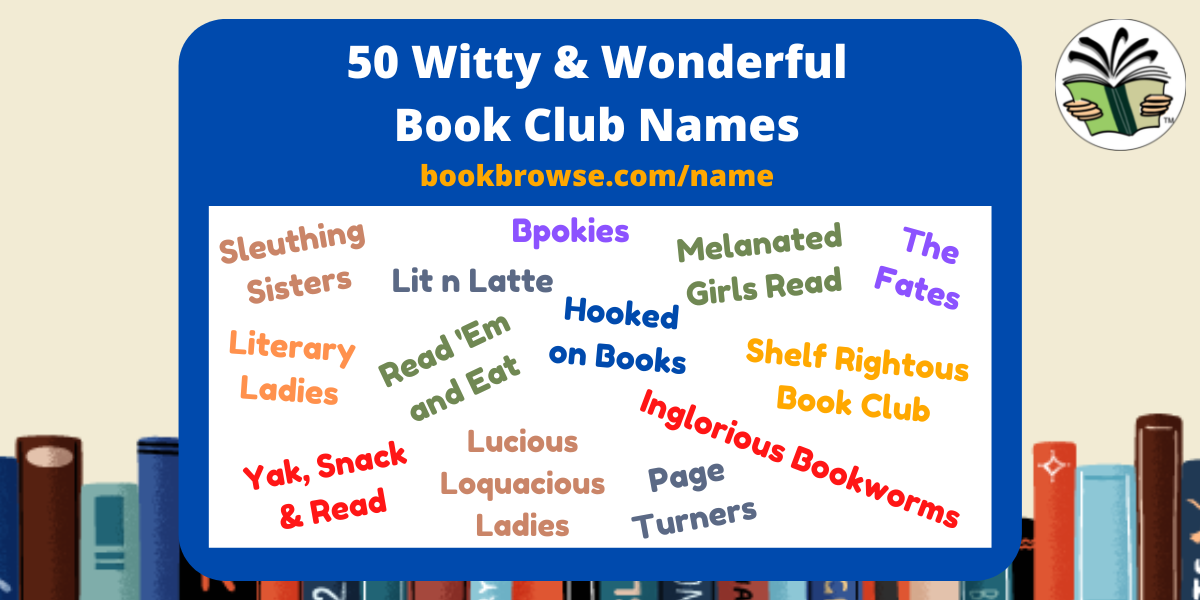 In the market for a name to give your book group? Why not look over some real book club names for inspiration? Earlier this year, we sent out a question with our annual book club survey asking about the names of subscribers' book clubs. We received more than 500 answers — ranging from straightforward and sincere to witty and laugh-out-loud entertaining — and we thoroughly enjoyed sifting through all of them. Thank you to everyone who submitted responses!

Below, we've highlighted common themes and categories we came across in hopes of sparking inspiration for those looking to name their own clubs.
Popular Book Club Names
Popular names include the following and variations: Book Babes, Bookworms (one great variation was Inglorious Bookworms), Page Turners, Chick Lit, Bookers, Bookies and Hooked on Books. Plays on the word "novel" also came up a lot: A Novel Approach, A Novel Idea, 5 Novel Women, Novel Pursuits.
Identities and Places
One common approach to choosing a book club name seems to be drawing from group identity, whether cultural, political, occupational, community-based or otherwise. Examples included Jewish Feminist Reading Group (JFRG), Retired Educators Reading for Pleasure, First Nation Communities Read, The Black Women's Literary Guild, Progressive Women's Book Club, Melanated Girls Read and Bucherwurms (a nod to German heritage in the group).

Many clubs opted to work location into their name, from Luscious Loquacious Ladies of Loudoun to The Brownstone Bookclub of BedStuy to Bow Lake Bibliophiles and beyond.
Reading and Refreshments
Some book clubs base their meetings around food or drinks, so it naturally follows that refreshment-themed names would be popular, allowing for such alliterative possibilities as Coffee with the Classics, Tea and Topics and Brews & Bestsellers.

More of our favorites: The Wine Club with a Book Problem; Read 'Em and Eat; Wine, Whimsey and Words; Lit n Latte; Read Between the Wine (also Wines Between the Lines); Yak, Snack & Read; Books, Broads, and Brews; Breakfast Club; the charmingly specific Absent-Minded Chocolate Lovers Book Club and Blimpie Book Club ("the original participants were all volunteers at their kids' school and ate Blimpie sandwiches at their lunch meetings"); and the delightfully bizarre and mysterious DinoNugget SpeedReaders.
Named After Books
If you're searching for a book club name that really defines your group, why not make it a shout-out to a book you all love?

One responder wrote, "After reading The Guernsey Literary and Potato Peel Pie Society years ago, we started referring to ourselves as the Literary Society!" A member of the club CLAMS (Corte Madera Literary and Munching Society) says their name was inspired by the same popular novel.

A touching response noted that the club Pickles was named for The Persian Pickle Club, which was the last book chosen by one of the group's members before she died.

Other groups modeled their names after their chosen book genres, such as the mystery-based Grounds for Murder, Sleuthing Sisters and CRIME (Coast Readers of Intrigue, Mystery & Enigma).
Funny and Unique
Funny and one-of-a-kind names (aside from all those already mentioned) included Women Who Talk at the Same Time, The Over Achievers Book Club, Shelf Righteous Book Club and TINYabc (This Is Not Your average book club) .

One responder explained, "We used to call ourselves the M&Ms (between menopause and Medicare). Now we're all on Medicare, so we switched to Bone Club (bo for book, ne for wine)."

A member of The Fates said, "We are an all-female group of 12–celebrating our 18th year together. We are named for the Greek Fates—who controlled the 'fate' or destiny of all men!"

Perhaps the most amusing answer was from a responder who wrote, "My prior club was known as the Bpokies due to an early email with the wrong key struck. The name persisted and has lasted 20 years."

We hope you had as much fun reading these responses as we did. And do share your own group's name below if you wish!