Vivat is Ukraine's second largest publisher, established in 2013 following the merger of two former publishing houses. Its head office is in Kharkiv, Ukraine's largest city after Kyiv, in the northeast near the border with Russia.

Vivat currently has 3,000 books in print and, in a normal year, would release about 400 new titles covering nonfiction, fiction, children's and young adult literature. Its slogan "read, dream, act" exemplifies its mission to popularize reading and promote Ukrainian authors.

In this interview, Vivat CEO Julia Orlova talks about the company's efforts to continue operations during the Russian invasion, the increased international demand for Ukrainian books, and its authors fighting on the front lines.


When you went to bed on the night of February 23rd, did you believe Putin would attack? Had Vivat made preparations in case there was an invasion?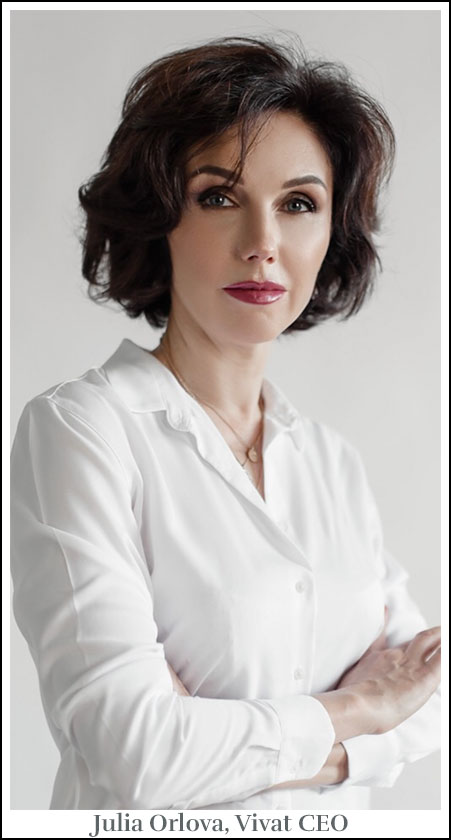 At four in the morning of February 24th, I was awake texting on Facebook. I posted that it seemed that half of Kharkiv must be awake, as there was already public information about a possible Russian invasion. After that I tried to sleep. Then, around five, I heard the explosions. It was such an incomparable feeling of absolute horror and panic. However, I had to pull myself together as difficult decisions had to be made for the future of the whole company.

I did not want to believe in a full-scale war until the last moment, as most Ukrainians did not. As a matter of fact, I did not believe that such a thing was possible at all in the 21st century. Vivat worked as usual until the day of the invasion. We were preparing new books, not war plans; but just the day before there had been discussions with colleagues about so-called "anxiety suitcases" as some had already packed them. But essentially all the decisions and actions made to save the business have been made after the war began.

What immediate business problems did you face at the beginning of the war, and how are you coping now?

The psychological state of people was probably the hardest challenge for the first weeks: it was absolute confusion and horror about what was happening. The situation was so terrible that work was out of the question. The first and most important thing was to ensure people's safety, then to try to restart, at least partially, our processes; and to find ways to evacuate the company's material resources.

To date, all 117 of our staff have been able to keep working. Many evacuated so quickly that they did not take their laptops with them, and many of them normally work from desktop computers at the office. We have been able to send laptops to some of the people, but there were problems with broken fiber optic cables and with staff not being able to access their PCs remotely. So, while a number of colleagues are technically able to work, others have not been able to, so not all business processes are up and running.

Of course, the most essential and challenging component of the business is that our warehouses are located in Kharkiv, and we have been unable to move the books. We are now working to transfer some of the books to a relatively safe location. But for now, we cannot provide the pre-war level of distributions and deliveries, or operate our internet shop.


Have you been able to find support from nearby countries?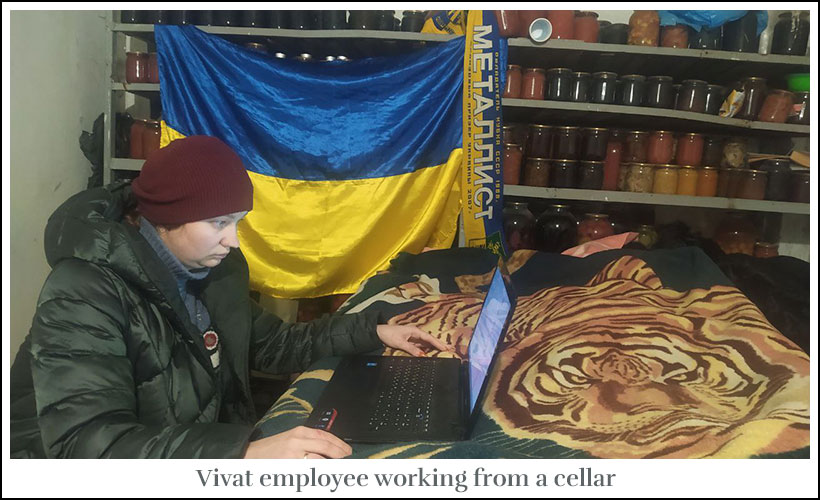 A network of international cooperation has started to develop at an accelerated pace, especially in Poland. We are planning to open a company there to distribute our books. Before the war, we were distributing our titles to 26 countries. Our books have become very popular, which has led to extensive cooperation with foreign partners around the world who want to buy rights to publish in their countries. With the support of foreign publishers, we want to increase awareness about Ukraine in the world by distributing Vivat books more widely than ever before. We are also aiming to join forces with international partners for a global cultural ban on Russia.

Two of our shops in Kharkiv are temporarily closed due to the fighting, but our bookshop in Lviv (in the west, near the border with Poland) continues to operate. Books, especially ones for children, are in a very high demand, as there are a large number of displaced people in Lviv, mostly women with children. They need something to entertain the little ones, so books have become a great comfort during these difficult times. We also hold public readings for them in our shop.

We are also working on putting audio books on European platforms. Many Ukrainians are now abroad, and we would very much like our readers, even those many kilometers away from their homeland, to have access to Ukrainian books.

In general, almost all the departments in our company have resumed work to one extent or another, but not in full. We hold weekly meetings with the top managers who report on the work they have done during the week. Frankly, each week these reports become more and more satisfying.


Are you also getting support from the wider international community?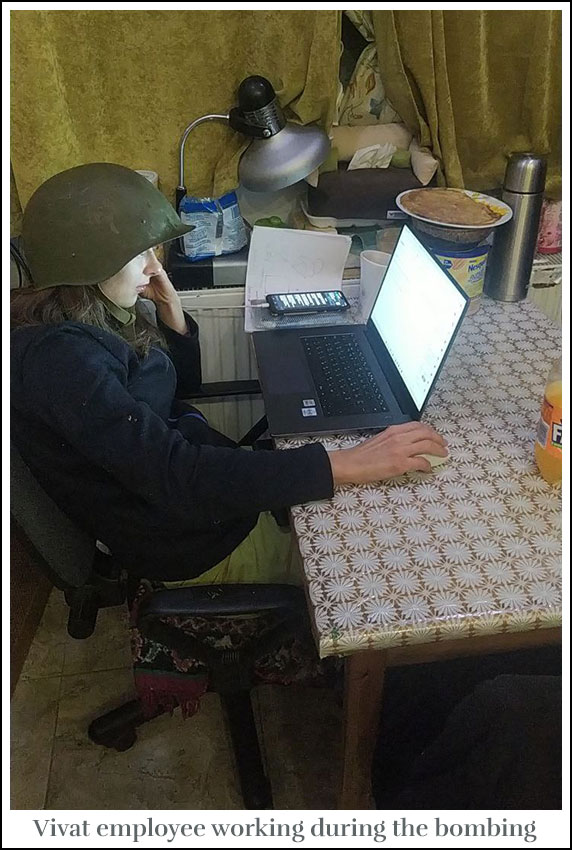 Since the first day of the war, Vivat has shown its pro-Ukrainian stance not only to its fellow citizens, but also to the world's partners and agents. We have been sending them letters asking them to help our country and contribute to Russia's cultural ban.

Many have responded to us and are supporting Ukraine and condemning the Russian invasion of our territories. There are too many to name but they include authors and journalists, public activists, politicians and prominent international figures including George Soros, Oprah Winfrey, Rupi Kaur, John Bolton, Boris Johnson, Svetlana Alexievich, Leigh Bardugo, Holly Black, Oliver Bullough, Stuart Turton, Harriet Muncaster, Marcin Mortka, Adam Mansbach, Antje Szillat, Kristin Harmel, Abbi Waxman, Glendy Vanderah, Patti Smith and Sebastian Fitzek.

Our authors are tearing up contracts with Russia, and openly expressing their support for Ukraine and condemning the actions of the aggressor country. Our tragedy is particularly strongly felt by Maye Musk (the international model and mother of Elon Musk), who writes almost every day to our communications director, Galina Padalko, asking questions about our affairs. In addition, she regularly posts active links on her pages to support Ukraine.


What is the situation for printers in Kharkiv and for book distribution? 

As of April, none of the printing offices in Kharkiv are operating. Processes relating to book printing have come to a complete halt. We hope that all printers have survived and are not affected by the artillery fire that our poor Kharkiv experiences every day. We have more than 50 novels ready for printing and we long for the moment when we can print and deliver them to our beloved readers. We are looking for alternative ways of printing books now.


The Washington Post recently published an article about the work librarians and volunteers across the world are doing to archive Ukraine's online cultural heritage to protect it from being destroyed by physical and cyber-attacks. Are the Russians actively targeting Ukrainian books and literature?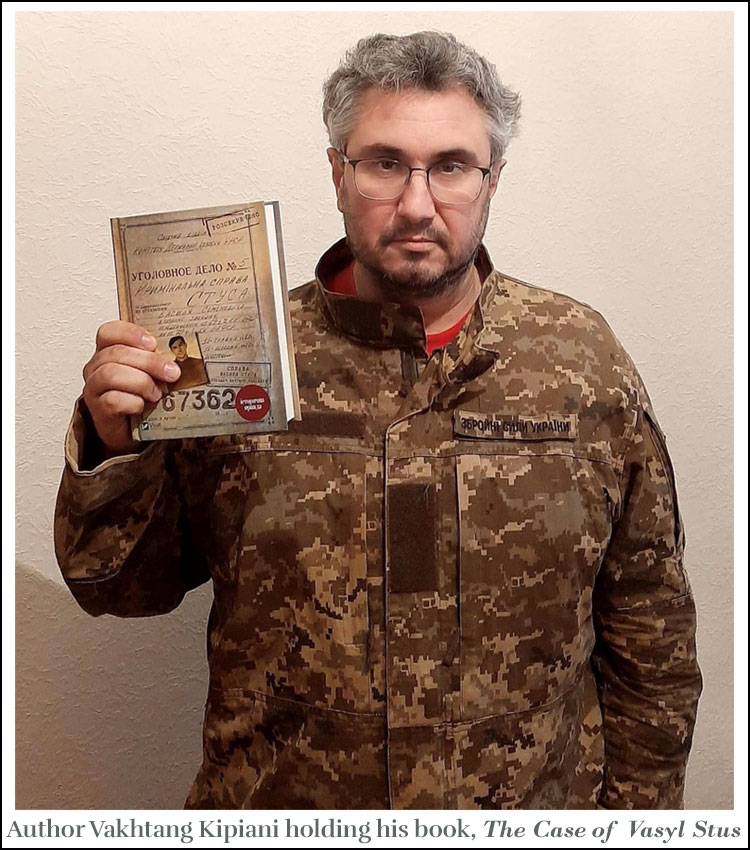 Yes, they are, and they have been doing so for years. Just last year, we won a court case against TV station owner Victor Medvedchuk who tried to ban our book The Case of Vasyl Stus by Vakhtang Kipiani, about the life of dissident-poet writer and journalist Vasyl Stus (1938-1985) who was constantly persecuted for his defense of human rights and opposition to the Russification of Ukraine. Medvedchuk is a pro-Russian oligarch with close ties to Putin who tried to ban the book because it contains the terrible truth about the Soviet government's crimes against Vasyl Stus. More than 100,000 copies of this book have been printed so far. There have been many lawsuits against Vivat, but in the end, we won the court cases because freedom of speech in Ukraine has a very high value.

The other day we learned that the Russians are removing our books from libraries in the temporarily occupied territories, including cities such as Kremenna, Rubizhne (Luhansk region) and Gorodnya (Chernihiv region). The books are seized and destroyed on the spot, or taken to unknown destinations.

We also know that libraries in the temporarily occupied territories of Luhansk, Donetsk, Chernihiv and Sumy regions have begun to exclude Ukrainian historical and contemporary literature that does not align with Kremlin propaganda.

Russia has set itself the goal to not only destroy our beautiful cities and to cripple people, but also to throw our literature into the fire. Throughout our existence, Ukrainian writers have fought against Russia's pseudo-imperium. Their books were destroyed and the writers were sent to prison for half their lives, just to be silenced. But the imperialists failed then, and they won't succeed now. Russia has inherited its hatred for literature from the Soviet era.

The Russian occupiers failed to consider one thing: by withdrawing paper copies of books, they will not destroy freedom of speech and the right to historical truth for Ukrainians. There is no critical, truthful and honest literature in their country. It has been replaced by the propaganda voices from television. Ukrainians are used to truth and freedom of speech.

Our people, their will and their freedom of speech cannot be so easily broken. We stop tanks with our bare hands, hang back the flags torn down by the occupiers, come out to peaceful rallies while machine guns are pointed at us. As you can see, Ukrainians do not have the option of "submitting." Russian propaganda methods do not work on us. That is why Russia is trying to destroy us and our cities physically. But they cannot defeat us morally. Ukrainians are full of fighting spirit and they display it to the entire world. So, all that the Russian invaders can do is to take away the books about our heroes who inspire Ukrainians not to give up.


Are you seeing increased demand for Ukrainian books in foreign markets?

Yes. So far, the demand for Ukrainian books has increased dramatically. Of course, refugees in other countries who want to read books in their native language have played an essential part in this. 80% of the growth is coming from increased demand for children's books and text books.

For many refugees abroad, a book in Ukrainian is a bridge between a foreign land and home. That is the first point. Secondly, the demand for Ukrainian books on the foreign market is caused by an extraordinary desire of foreigners to learn more about Ukraine, its history, customs, culture and historical background.


Do you see a time when you will be able to get back to pre-war levels?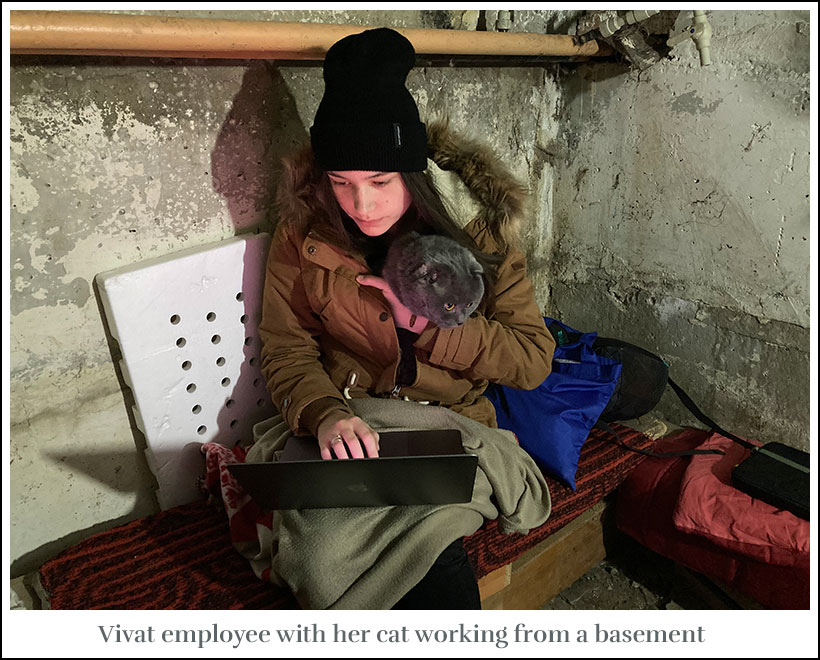 It depends on how long the war is; and how long the process of rebuilding and returning to a peaceful life across Ukraine takes. Vivat is doing its best to stay afloat. We have begun a partial business relocation to the western territories of Ukraine to restore some business chains.

We will be transferring the remaining books from the warehouses in Kharkiv as soon as we are able to get them out of there. And we will get back to publishing new books as soon as we can.

It will only be possible to assess how much work needs to be done after we have won the war. We at Vivat believe that there will continue to be a boom in demand for Ukrainian books, and that the demand for Russian-language literature will radically decrease.

Of course, government programs will help speed up the pace of recovery. However, we all realize that aid will be directed first and foremost towards the rebuilding of Ukraine's infrastructure.


How can we help?

There are many groups needing funds, but I would like to say a little about Vitaliy Zapeka. He is one of our authors who is now on the front lines, and we are fundraising for his battalion. When Vitaliy was fighting for Ukraine in the Poltava Volunteer Battalion in 2015, he wrote Polinka - a book for his future granddaughter, because he was afraid that because of the war she would not have childhood memories of her grandfather. It became an instant bestseller. When the first explosions occurred over Ukraine, Vitaliy called our editor-in-chief Olena Rybtsi and informed her that the manuscript of his next book Polinka in the Country of Nonsense was ready. And he invited her to move from Kharkiv to his house because it's safer there, and calmly informed her that he was going to the front.

Today, Vitaliy is commanding a platoon defending Ukraine, and we really want him to come back victorious as soon as possible, hug everyone from the field and finally go on a book tour. So Vivat is raising funds for the needs of the fighters, including Vitaliy. Among the necessary things are: kevlar helmets (18), ballistic masks-glasses (22), tactical medical kits (28), body armor (22), filters for disinfection of water in field conditions (2), and more of ammunition.⠀

Anyone who would like to help Vitaly can transfer money to this account via PayPal: mirzaeva.tanya@gmail.com -- please note "for 144 battalion"


Interview by Davina Morgan-Witts, BookBrowse Publisher


How to Support Ukraine

To support Vivat's fundraiser, as noted above, send donations via PayPal to mirzaeva.tanya@gmail.com, noting "for 144 battalion"

Here are some additional donation options:
UNITED24 was launched by the President of Ukraine Volodymyr Zelenskyy as the main venue for collecting charitable donations in support of Ukraine. Funds will be transferred to the official accounts of the National Bank of Ukraine and allocated by assigned ministries to cover the most pressing needs.
NovaUkraine.org is a nonprofit dedicated to providing humanitarian aid to the people of Ukraine (credit card, Paypal etc.)
RazomforUkraine is providing critical humanitarian war relief (credit card, Paypal etc.)