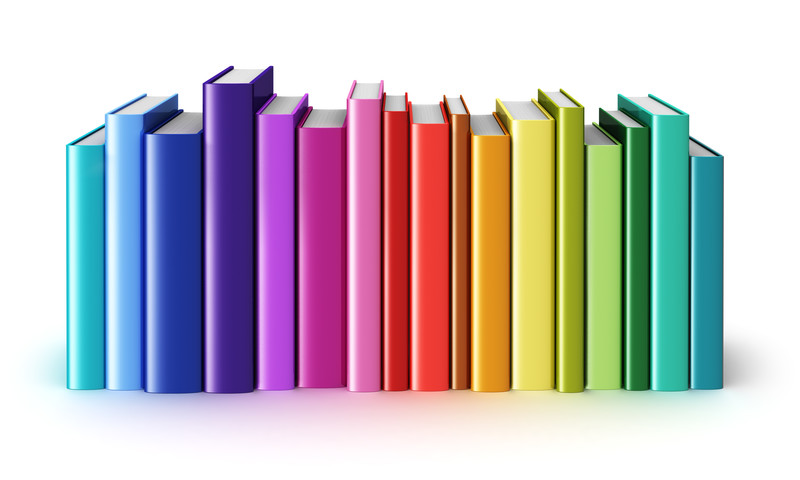 In celebration of LGBTQ Pride Month, and in an effort to promote diversity in kids' literature, we've put together a list of eight highly praised LGBTQ books for young adults, all of which published (or will publish) in 2017.
Why is diversity in kids' literature so important? According to
Rudine Sims Bishop
, Professor Emerita of Education at The Ohio State University, and former selection committee member for both the Caldecott and Newbery awards, in her essay "Mirrors, Windows, and Sliding Glass Doors":
When children cannot find themselves reflected in the books they read, or when the images they see are distorted, negative, or laughable, they learn a powerful lesson about how they are devalued in the society of which they are a part. ...Children from dominant social groups have always found their mirrors in books but they, too, have suffered from the lack of availability of books about others....They need books that will help them understand the multicultural nature of the world they live in, and their place as a member of just one group, as well as their connections to all other humans. ...[B]ooks may be one of the few places where children who are socially isolated and insulated from the larger world may meet people unlike themselves. If they see only reflections of themselves, they will grow up with an exaggerated sense of their own importance and value in the world - a dangerous ethnocentrism.
What do you think of our list? If there are other outstanding YA LGBTQ books you'd like to add you can do so at the bottom.
Ramona Blue by Julie Murphy

May 2017. 432 pages. Published by Balzer + Bray

Ramona Blue - six feet tall with bright blue hair - has experienced her share of chaos and uncertainty. Hurricane Katrina upended her life when she was only five and her flawed but fiercely loved family still struggles to make ends meet in partially-recovered Eulogy, Mississippi. But Ramona still knows who she is. She has been out as a lesbian since her freshman year in high school, she's a hard worker, and she carries the responsibilities of her family on her shoulders - including her sister Hattie's pregnancy. But then, after her summer love Grace leaves for home, Freddie shows up. Her childhood friend, a former competitive swimmer, reignites her love of swimming and - as she begins to develop feelings for him - causes her to question her sexual identity. Does she feel romantic feelings for him or is he just the friend she needs right now?
More about this book
Tash Hearts Tolstoy by Kathryn Ormsbee

Jun 6, 2017. 384 pages. Published by Simon & Schuster Books for Young Readers

Tash has a literary crush on Leo Tolstoy. So much so, she creates an amateur web series called Unhappy Families - a modern adaptation of Anna Karenina. When her series is recognized by an internet superstar, Tash and her show go viral. She enjoys the surreal and rapid transition from obscure literary geek to internet sensation - the tens of thousands of subscribers, the hype and buzz. But the burden of maintaining that fame is a lot to take. What's even scarier is figuring out how to tell her newfound cyber "crush" that she's romantic asexual. In a bold and lauded move by publisher Simon & Schuster, this groundbreaking novel will surely bring conversations about asexuality to mainstream readers and shed some light on a largely unexplored category of sexual orientation.
More about this book
The Gentleman's Guide to Vice and Virtue by Mackenzi Lee

Jun 27, 2017. 528 pages. Published by Katherine Tegan Books

This novel takes readers on a wild, romantic adventure across 18th century Europe and envelops you in the antiquated language of an bygone era - what Kirkus calls a "deliciously anachronistic bonbon." Monty is a young, privileged, bisexual British lord who is slated to take over his family's estate - but he doesn't exactly fit the mold of the "proper gentleman." Impulsive, hedonistic, and with a knack for making bad decisions, Monty takes a year-long tour across Europe looking for a little bit of wild fun - and an escape from the pressures of his daily life. In tow are his clever little sister Felicity and his best friend Percy. Oh Percy. Monty's crush is undeniable and this trip is one long opportunity to flirt. But things get complicated when one of Monty's impetuous decisions turns into real trouble, and a secret that Percy has been keeping comes out.
More about this book
History Is All You Left Me by Adam Silvera

Jan 2017. 304 pages. Published by Soho Press.

This isn't the triangulated love story you might expect when two people fall for the same guy. Griffin has known Theo since sixth grade and is in love with him - so much so, he breaks off their romance so that Theo can go to school in Santa Monica without feeling held back. But Griffin always expected Theo to come back to him. When Theo accidentally drowns, Griffin's plans - and his entire future - are pulled out from under him. It seems that the only person who might actually understand his pain and help him heal is Jackson - Theo's new boyfriend. Despite their communications, Griffin's grief and anxieties grow unmanageable. His obsessive compulsive behaviors get worse and worse, and he goes into self-destructive mode. He's forced to confront the secrets he's been keeping before he loses himself.
More about this book
We Are Okay by Nina LaCour

Feb 2017. 240 pages. Published by Dutton Children's Books

Living on Top Ramen and wearing sweatpants for an undisclosed number of days, Marin has more or less gone into hiding. Having lost the grandfather who raised her and trying to outrun the memory of what happened during his last days, Marin moves from California and starts college in New York. She isolates herself in the dorms over winter break and refuses to reply to calls, texts - and all but vanishes from existence. But that's simply not okay with Mabel, Marin's best friend and deep crush. Mabel comes for a visit and forces Marin to confront the past, her actions, and the grief she can't afford to ignore.
More about this book
Looking for Group by Rory Harrison

Apr 2017. 368 pages. Published by HarperTeen

Dylan just received a 1-up, so to speak. He's currently in remission from cancer and has the unexpected gift of a longer life, and he's not wasting any time. Dylan is leaving his depressing, decaying home environment - selfish mother and all - and going on a quest. Not a virtual one like he's used to, playing World of Warcraft all the time, but a real one - and he wants to take Arden, his online gaming cohort and best friend, with him. Along the way, as Dylan and Arden get to know each other in person, they encounter challenges that are truly difficult to navigate: the pain caused by Arden's transphobic dad and AWOL mother, and Dylan's own intense anxiety that keeps him addicted to painkillers. Their love story isn't an easy one but the undeniable and deep level of friendship and hope they feel around each other may just make it all worth it.
More about this book
This Is How It Always Is by Laurie Frankel

Jan 2017. 336 pages. Published by Flatiron Books.

Note: This book is NOT a YA title, however it may be appropriate for mature readers.

Rosie, an ER doctor, and Penn, a writer, live in constant chaos with their family of five boys. So when their youngest son Claude says he wants to wear a dress and uses a purse instead of a lunchbox, they think it's just a stage. It soon becomes clear, however, that Claude identifies with being a girl, not a boy. Together, the family tries to navigate this new territory and...mistakes are made. Rosie and Penn decide, in an attempt to love and protect their baby, now called Poppy, to move their family to a new state and get a fresh start - and to keep Poppy's assigned sex a secret. Then one day, with heart-wrenching consequences, the truth comes out. Rosie and Penn have to figure out what to do next and hope that they're doing the right thing, but with so many unknowns and so many questions, "right" isn't always clear.
More about this book
The End of Eddy by Édouard Louis

May 2017. 208 pages. Published by Farrar, Straus & Giroux.

Note: This book is NOT a YA title, however it may be appropriate for mature readers.

This "novel" is a thinly veiled look at Édouard Louis's own brutal life; he says that "every word of this book is true," which is at once horrifying and moving. For Eddy Bellegueule trying to fit in as an effeminate boy in a violent, poor factory town in Northern France is far from easy. At school, bullies barrage him with insults and physical assaults, and life at home with a staunchly homophobic, xenophobic, alcoholic father and family is no better. Eddy - in an attempt to fit in - longs for the macho, tough persona. He dates girls, he even bullies another effeminate boy, but he can't escape the truth about himself. This very timely book also looks at the larger systemic causes for the anger and hostilities surrounding Eddy, and was described as France's Hillbilly Elegy by The New York Times.
More about this book