Dear BookBrowsers,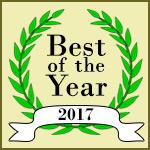 BookBrowse's annual Best of the Year awards are an excellent barometer of great reading. The awards are particularly noteworthy because voting is only open to BookBrowse subscribers - so no vote stuffing by rabid fan bases; and instead of just voting for a book (which favors the most widely read books) subscribers rate each book they've read that is on the shortlist, and the winners are the books with the highest overall rating. Such considered selection results in truly outstanding books being feted every year. 2017 is no different in that regard. Over 7,000 votes were cast on 67 books (12 nonfiction, 51 fiction and 4 YA).
The 2017 Award Winners
Best Fiction: Book club favorite Celeste Ng wins for Little Fires Everywhere.

Best Nonfiction: David Grann wins for his brilliant reporting about Native American murders and the birth of the FBI in Killers of the Flower Moon.

Best Young Adult Novel: Veteran author Philip Pullman wins for La Belle Sauvage, the first volume in his new trilogy.

Best Debut Novel: A murder-suicide mystery set in drought-stricken Australia wins Jane Harper our Best Debut Award for The Dry.

See past winners on our Awards page | About the awards process




The 2017 Top 20 Books
Click on any jacket below (displayed in alphabetical order) to browse a wealth of information on each of the Top 20 highest rated books, including an excerpt, a range of reviews and, for a limited time, BookBrowse's own full length reviews and beyond the book articles.