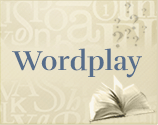 ~ The Big Holiday Wordplay ~
To enter, decipher the 10 classic books and their authors from the clues below (e.g. the answer to M B by G F would be Madame Bovary by Gustave Flaubert.) All ten books were published in the 20th century.

There will be 5 winners. Three will be selected at random from the correct entries, two will be selected from all eligible entries - whether correct or not. So it is still worth entering even if you cannot solve all of the clues!

In setting each clue we have a specific book in mind but it is possible that there could be more than one book that matches a particular clue. In such cases we will accept credible alternatives as correct.

Winners who live in the USA can choose to win a 1-year membership to BookBrowse (a $39 value) or their choice of three books from the currently available selection. Winners who live outside the USA will win a 1-year membership to BookBrowse.
This contest will close on Jan 6, 2020.
Winners will be notified by email and will be listed online after all prizes have been awarded.
We have never, and will never, sell, rent, or otherwise publicize the email addresses of anyone on our mailing list.
By submitting an entry, the participant acknowledges and agrees to all of the contest rules.
Please make sure to put something in each of the 10 boxes on the entry form, even if it is just 'don't know', as the form will not process properly if a box is left empty.