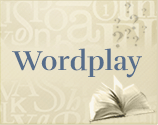 ~ I Y L D W D, Y'll G U W Fleas ~
Decipher this well-known saying and you could win the book of your choice.

For example 'K The B' = kick the bucket.

Wordplays are open to BookBrowse visitors worldwide (visitors outside the USA win a 6-month membership to BookBrowse).

In each contest one winner will be selected at random from the correct entries. The winner will be notified by email shortly after the draw closes.

This Wordplay will end on March 19, 2018.