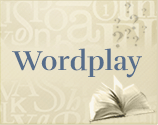 ~ A M I A Terrible T T W ~
Decipher this clue to reveal a well known expression; for example 'K The B' = kick the bucket.

Wordplays are open to entrants worldwide except where prohibited by law; only one entry per person.

In each contest, one winner will be selected at random. The winner will be notified by email shortly after the draw closes and will win a one year membership to BookBrowse or an extension to an existing membership (a $45 value). The exception to this is if a patron of a public library that subscribes to BookBrowse wins, in which case (because they already have free access to BookBrowse) they would win a book up to $25 in value.

This Wordplay will end on October 2, 2023.