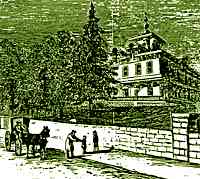 In People of the Broken Neck, a series of mysterious messages, scribbled in salt, follow the Sawyers as they flee from the authorities all across the country. Cryptic communications, especially when interlinked with crimes, have always been intriguing, and the ones in this novel reminded me of ransom notes even if they make no overt demands.

It is believed that America's first ransom note was sent in the summer of 1874 and followed the kidnapping of two boys, sons of Christian Ross, a merchant who had set up shop in the northwest suburbs of Philadelphia. It is unclear why, but the criminals returned the five-year-old son, Walter, but held on to the four-year-old Charlie. Distraught, Christian Ross approached the local police. But ...
This "beyond the book" feature is available to non-members for a limited time. Join today for full access.