BookBrowse:
This novel depicts the fictional lives of two actual historical characters as played against the backdrop of the U.S. Civil War.
Charles Sherwood Stratton was born in Bridgeport Connecticut in January 1838. He was a perfectly normal, healthy baby: no one expected him to stop growing after six months. Yet by the time he was fifteen years old, he was still only twenty-five inches tall. A fellow Bridgeport resident, one P.T. Barnum, discovered Charlie at the age of five and took him to his American Museum in New York City. There, Barnum made Charlie a star, called General Tom Thumb.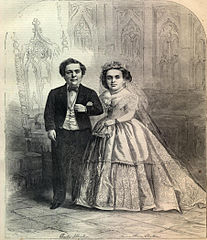 Charlie's rise to fame, however, is not the major concern of Nicholas Rinaldi's novel. Instead, Rinaldi takes his readers into Charlie's life in his twenties when he met and fell in love with another of Barnum's little people, Lavinia ("Vinnie") Warren. And just as his two main real-life characters are far from ordinary, so are the years of Charlie and Vinnie's courtship. For although the title may imply that this is a love story, this is very much a Civil War novel.

After a rather lengthy prologue concerning Charlie's early life, the novel opens in April 1861 with news arriving in New York of the fall of Fort Sumter to the Confederates – or the 'rebs' as Charlie, a Unionist, terms them. Unable to enlist, Charlie is forced to watch the war from the sidelines. He's an eyewitness to the Battle of Bull Run and dramatically caught up in the burning of Chambersburg in 1864. And even though Charlie cannot bear arms for the cause there are other covert ways that he can help, as he travels the country and continents meeting many people and visiting many places.

Taking the point of view of two real-life celebrated and unusual performers, Rinaldi is able to create a compelling and informative fictional story that successfully gives insight into civilian life during the Civil War years. Although not part of the conflict, the inhabitants of the American Museum are all touched by the war. Families are divided by their support for the North or South. Vinnie's brother is a serving soldier. His letters to his sister dramatize the long, tiresome and difficult challenges to be faced as the years of conflict drag on.

Charlie and Vinnie, due to their great fame, are also able to meet with many other historical figures including Abraham Lincoln, Walt Whitman, Queen Victoria, and John Wilkes Booth, adding to the success of the novel. These scenes are potentially difficult but all the cameos work well and seem natural parts of Charlie and Vinnie's story. According to Vinnie, celebrities feel more at ease with these little people, "our tiny size does something to them. It breaks down the barriers, and they are quite themselves with us, with none of the airs and formalities, none of the pretenses."

Where Rinaldi is less successful, however, is in his development of the journey of Charlie and Vinnie. The book's title – The Remarkable Courtship of General Tom Thumb – sets up expectations that are simply not met. The central relationship is quickly established and although there are some minor hiccups in this path of true love, they are much less to the fore than the world and drama at hand on the wider Civil War stage. Structurally, the prologue is overly long and I would have enjoyed Tom's early history more if it had been woven into the main chapters. Rinaldi also gives the lion's share of the story to Charlie but at times switches over to Vinnie and it is not always clear that the change is necessary.

None of which is to say that the novel is not a superbly enjoyable read, or that the characters are not appealing and well drawn. But I am left wondering how the title was chosen and how many readers will pick it up expecting one kind of story and find themselves reading something quite different.

Additional Information

Learn more about Lavinia Warren in The Autobiography Of Tom Thumb.

Picture of Tom Thumb and Lavinia Warren, as photographed by Matthew Brady and transferred to a drawing on the cover of Harper's magazine, February 21, 1863, from sonofthesouth.net

This review was originally published in The BookBrowse Review in September 2014, and has been updated for the September 2015 edition. Click here to go to this issue.
This review is available to non-members for a limited time. For full access become a member today.
Membership Advantages
Reviews
"Beyond the Book" articles
Free books to read and review (US only)
Find books by time period, setting & theme
Read-alike suggestions by book and author
Book club discussions
and much more!
Just $45 for 12 months or $15 for 3 months.