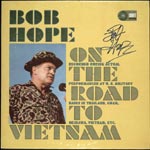 In California Golden, Mindy has a transformative experience touring Vietnam during the war that makes her question her chosen career in show business. The Vietnam War was a transformative experience for America in the 1960s, impacting virtually everyone in some way. While the involvement of the United States in Vietnam was a profoundly polarizing topic, many entertainers opted to express solidarity with the troops by performing at military bases.

One of the most iconic entertainers who toured Vietnam was legendary comedian Bob Hope. Hope went on nine tours in Vietnam through the United Service Organizations (USO), often keeping troops company in dangerous areas. His shows usually included a combination of comedic acts, music performances, and audience participation. He toured with a lineup of performers, including dancers, musicians, and actors.

Hope established a special rapport with the soldiers. His performances were designed to connect with their experiences, incorporating ...