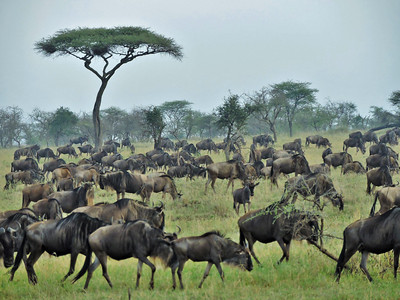 Chris Bohjalian's novel The Lioness is set in Serengeti National Park, a 5,700 square-mile wildlife refuge on the Serengeti Plain of north-central Tanzania. Established in 1951, it was one of the first areas proposed to be a World Heritage Site, obtaining that status in 1981.

The park is a subset of the larger Serengeti ecosystem, which spans about 12,000 square miles and includes vast swaths of grassland; indeed, the area's name is derived from a Maasai word meaning "endless plain." The preserve is home to an immense number of ungulates (hoofed mammals) — somewhere around 1.3 million wildebeests (or gnus), 150,000 gazelles and 60,000 zebras — as well as many other animals (lions, hyenas, etc.). Elephants are a relatively recent addition; they established a population in the area in recent decades as humans encroached on their territory in Kenya's Maasai Mara, and now number close to 1,400 within the park.

Around 150,000-200,000 tourists visit Serengeti National ...