The Spanish Civil War
This article relates to The Correspondents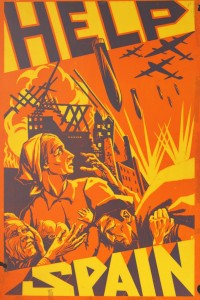 Several of the women highlighted in Judith Mackrell's The Correspondents started their journalistic careers covering the Spanish Civil War (1936-1939).

Spain had been in political turmoil for many years before the war; while the country was still officially a monarchy, a 1923 coup had placed Miguel Primo de Rivera in charge of the nation, transforming it into a military dictatorship. He had the initial support of the populace, but when the economic condition of most of Spain's citizens worsened due to corruption and mismanagement, he was forced to step down. King Alfonso XIII (who had actually supported Rivera) agreed to hold a referendum, with the end result being that voters overwhelmingly chose to abolish the monarchy in favor of a democratically-elected government. The Second Republic was subsequently declared on April 14, 1931, with those in power being predominantly middle-class liberals and moderate socialists.

However, there was widespread dissatisfaction with this government's land and religious reforms, and another election was held in October 1933, in which conservative factions prevailed. Liberal policies enacted during the previous administration were rolled back, which caused considerable discontent among those who had benefited from them, particularly agricultural workers and miners. General strikes, protests and random class clashes occurred, culminating in a massive, bloody uprising in October 1934 that was brutally put down by General Francisco Franco. A third election was held in January 1936, and a leftist coalition once again prevailed. Three generals — Franco, José Sanjurjo and Emilio Mola — plotted an overthrow of the government and staged a well-planned coup in July 1936. They failed to win control of the entire country, however, and the situation devolved into a civil war.

Although positions across the Spanish populace were nuanced and varied widely, opposing factions can be placed into two very broad categories. The rebels became known as the Nationalists, and were supported mainly by the military, political conservatives, landowners and businessmen, and the Roman Catholic Church. On the other side of the conflict were low-wage urban workers, agricultural workers and miners, and the educated liberal middle class. This latter group became known as the Republicans.

Both factions realized early on that they were too weak to win the war, and appealed to friendly countries outside Spain for help. Britain, concerned that other nations' involvement could escalate into a wider conflict, asked its European neighbors to sign a non-intervention agreement in August 1936. The provisions were agreed to by more than two dozen nations, but a number of countries, most notably Germany, Italy and the USSR, got involved in spite of their pledges of neutrality. Germany and Italy saw Spain as an opportunity to test out military strategy and new weaponry, and provided a great deal of support to the Nationalists — on credit. The USSR backed the Republicans, but wasn't nearly as generous or far-sighted, often providing very old equipment and insisting on cash only. In addition, while the Nationalists were disciplined and ideologically aligned, the Republicans were not. Inter-group conflict was so prevalent that some referred to their difficulties as a civil war within a civil war.

Both sides committed atrocities as they attempted to weed out those who didn't agree with their positions. Torture, executions and assassinations were common as the Nationalists and Republicans sought to control the populace through violence and intimidation. The Nationalists were much more systematic about their purges, resulting in the extermination of approximately 150,000 individuals. Mola famously declared, "We have to create the impression of mastery, eliminating without scruples or hesitation all those who do not think as we do." Although the Republicans were less extreme, they were also guilty of extrajudicial killings. It's thought they were responsible for around 49,000 deaths, including the execution of 7,000 priests and nuns suspected of collaborating with the Nationalists.

Republican forces were supplemented by the International Brigades — an umbrella term used to describe foreigners who volunteered to fight for the leftist regime. This group was comprised of over 40,000 men from across Europe and the United States. These idealists were quickly disillusioned as they were most often used as "shock troops" — front-line soldiers who were at the most risk. Indeed, the proportion of casualties among the International Brigade soldiers was far higher than those of Spanish Republicans. Robert Jordan, the fictional hero of Hemingway's For Whom the Bell Tolls, was one of these soldiers. Hemingway reported on the Spanish Civil War in 1937, alongside fellow journalist Martha Gellhorn, one of the women depicted in The Correspondents. He and Gellhorn were married in 1940. George Orwell almost died fighting for the Republicans when he was shot in the neck during one battle. He wrote about this experience in his memoir Homage to Catalonia.

In the end, there really was no contest between the two factions; the Nationalists were better organized and better armed. By the spring of 1939, about a half-million Spaniards had fled to France (many of them winding up in refugee camps, or German prison camps the following year). On March 5 the Republican government left the country, and by March 28 all Republican forces had begun to disband. Franco was named head of state on October 1, 1936, and ruled as dictator of the country until his death in 1975. No one is sure how many people died in the conflict; estimates range from 150,000 to over 1,000,000.
Propaganda poster designed by the Artists International Association to attract volunteers to the Republican cause, courtesy of Tyne & Ware Archives & Museums
Filed under People, Eras & Events
This "beyond the book article" relates to The Correspondents. It originally ran in November 2021 and has been updated for the February 2023 paperback edition. Go to magazine.
This review is available to non-members for a limited time. For full access become a member today.
Membership Advantages
Reviews
"Beyond the Book" articles
Free books to read and review (US only)
Find books by time period, setting & theme
Read-alike suggestions by book and author
Book club discussions
and much more!
Just $45 for 12 months or $15 for 3 months.