The 13th Amendment and Contemporary Slavery in the US Prison System
This article relates to Chasing Me to My Grave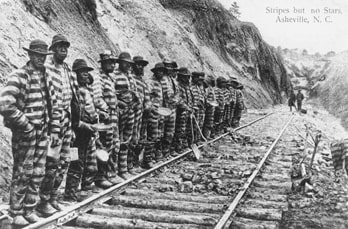 As we all know, slavery was abolished in the United States after the Civil War when Congress passed the 13th Amendment. What many might not recognize is that the 13th Amendment did not ban slavery entirely. In fact, it explicitly states an instance in which slavery and involuntary servitude are permitted — when people are incarcerated. Prisoners can be forced to participate in penal labor without pay.

The 13th Amendment is succinct:
Neither slavery nor involuntary servitude, except as a punishment for crime whereof the party shall have been duly convicted, shall exist within the United States, or any place subject to their jurisdiction.
Since the end of the Civil War, the 13th Amendment has been used to persecute prisoners — especially Black Americans who have traditionally been sent to prison at much higher rates than white Americans. While incarcerated, particularly in former slave states, Black Americans have been forced to do hard manual labor without pay.

Perhaps the most emblematic representation of penal labor is the chain gang. Chain gangs became popular in southern states before the Civil War and were embraced with enthusiasm by the same states after the abolition of slavery. Chain gangs typically used a shackle on the ankle to weigh individual prisoners down with a heavy ball, making escape difficult — the proverbial "ball and chain." The phrase chain gang derives from the fact that numerous prisoners with balls and chains could be attached to one another for easier supervision and to reduce the risk of individual prisoners escaping.

Chain gangs were used extensively in the South to persecute Black people, as often part of the prison sentence would include chain-gang labor for no pay. Winfred Rembert, the author of Chasing Me to My Grave, for example, served seven years in a Georgia prison and was forced to work on a chain gang during his incarceration. This practice was gradually abolished by the states in the '50s and '60s, with Georgia being the last state to do so.

Today, almost all prisons in the United States pay wages, but they are so low that they would be illegal if it weren't for the 13th Amendment. (Unpaid and underpaid penal labor has been upheld by US courts numerous times due to the amendment's unambiguous wording.) Some states even require all prisoners to participate in penal labor. How low are the wages? There are two types of work prisoners can participate in: labor for the prison and labor for outside industries.

Federal inmates working for the prison earn between 12 cents and 40 cents an hour. At a midrange salary, 26-cents an hour, an inmate would earn $540.80 for a full year's work. A prisoner serving a 10-year sentence who worked full-time, five days a week all 10 years in prison would leave with $5,408 — assuming they didn't spend any of the money during the 10 years. Prisoners working jobs for clients such as the federal or state government or private corporations can earn a bit more — 23 cents up to $1.15. Again, however, the amount earned is a pittance.

Given that incarceration in the US is not just or equitable when it comes to race, and incarcerated inmates can be ordered to do penal labor by judges or state law for wages below those found in some of the poorest regions of the world, it might be argued that the 13th Amendment did not eradicate slavery in the US at all. It simply hid it from public view.

Chain gangs may have been the last opportunity for the public to witness slavery in their local community, but the legacies of the Civil War, Jim Crow and systemic racism still linger.
North Carolina chain gang, 1915, courtesy of NCpedia
Filed under Society and Politics
This article relates to Chasing Me to My Grave. It first ran in the October 20, 2021 issue of BookBrowse Recommends.
This review is available to non-members for a limited time. For full access become a member today.
Membership Advantages
Reviews
"Beyond the Book" articles
Free books to read and review (US only)
Find books by time period, setting & theme
Read-alike suggestions by book and author
Book club discussions
and much more!
Just $45 for 12 months or $15 for 3 months.