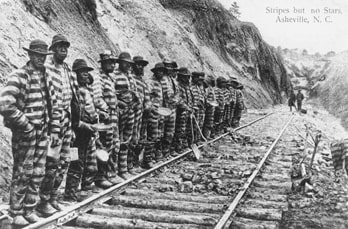 As we all know, slavery was abolished in the United States after the Civil War when Congress passed the 13th Amendment. What many might not recognize is that the 13th Amendment did not ban slavery entirely. In fact, it explicitly states an instance in which slavery and involuntary servitude are permitted — when people are incarcerated. Prisoners can be forced to participate in penal labor without pay.

The 13th Amendment is succinct:
Neither slavery nor involuntary servitude, except as a punishment for crime whereof the party shall have been duly convicted, shall exist within the United States, or any place subject to their jurisdiction.
Since the end of the Civil War, the 13th Amendment has been used to persecute prisoners — especially Black Americans who have traditionally been sent to prison at much higher rates than white Americans. While incarcerated, particularly in former slave states, Black Americans have been forced to do hard manual labor without...