Excerpt
Illustrated by Winfred Rembert. All artworks made with dye on carved and tooled leather.
It was 1961 or 1962. I was working in Jeff's poolroom. One day I was surprised to see all these Black folk, especially adult Black men, coming in the poolroom. They were all sitting around, having a meeting and talking about civil rights. I never heard people talking about civil rights before. They were NAACP people, though I didn't know it at the time. I thought they were coming in there to shoot pool, but, lo and behold, they were talking about civil rights. It turned out, if I got it right, that Buddy Perkins, the funeral home director, was the headman of the NAACP in Cuthbert. Jeff was some kind of official too, and Jeff's poolroom became the meeting place for talking about ideas, businesses, and civil rights.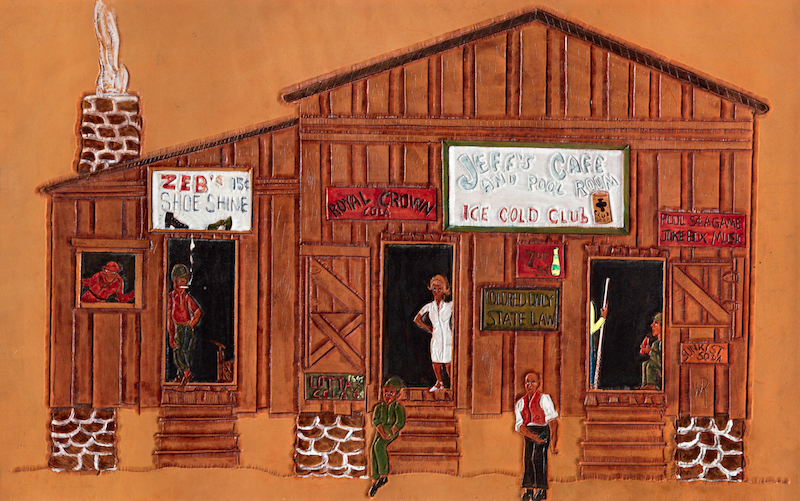 Jeff's Cafe, 1997
Black people in Cuthbert had to sacrifice to make a change. In the 1950s, Ben Shorter Sr. was president of a voters' league in Randolph County. The authorities in Randolph County would not let Black people vote. I remember Mama talking about wanting to vote, and it was obvious that she was afraid. Ben Shorter and some other folks from Cuthbert—Ulysses Davis and Charlie Will Thornton—worked with an NAACP lawyer named Dan Duke to get Blacks onto the voting rolls. As Ben Sr.'s son Wesley tells it, "During the time my father was meeting with a lawyer from Atlanta, they would meet at our house. The lights would be turned out and they would meet in the back room. There were people outside for protection because of threats by the Ku Klux Klan and others."

The voters' league was successful in court, but after that Ben Shorter lost his job as a mechanic. Charlie Will Thornton lost her job as a schoolteacher. Ben was also the leader of a swing band that had been very popular in our part of the South since the early 30s.

Wesley's brother, Ben Shorter Jr., told me that when his father played in some White places, they couldn't come through the front. He talked about how they all had to come through the back to set up, and how he sat there in this chair waiting on his dad to get through playing. After the voting rights case, it was several years before Ben Sr. was able to get gigs in Cuthbert again.was also the leader of a swing band that had been very popular in our part of the South since the early 30s.

Ulysses Davis's granddaughter, Naomi Jenkins, lives in Cuthbert today. She remembers sitting on her grandfather's knee in the Albany law offices of C.B. King. "Somebody could threaten your life or threaten your livelihood. It just so happened that my grandfather was a carpenter, so he was able to maintain. You shouldn't have to die for things to be equal and fair, but people died. You should not have had to lose your source of income, but people did. It was very very difficult. The fear was greater than you could ever imagine. Charlie Will. She is my hero. She was very outspoken. She was never able to teach again in Randolph County, simply because of her stand on equal rights."
* * *
I had never been to a demonstration or a sit-in. It was all new to me. The NAACP guys talked about how, if you go to the marches, you'd get in the fetal position to keep from getting kicked in the stomach and to keep the dogs from biting you. They taught us to cover our heads if the police were beating on you with those billy clubs, and to fall on the children to protect them. Those were the conversations. My buddies Charlie Brookins and Eddie C. Howard came by the meetings too. Their parents didn't want them to get involved, so they had to slip out of the house. Charlie says there was no way his parents would have allowed him to go to the demonstrations that were going on in Albany. "It was real dangerous back in those times. White people had guns and they were killing Black people in those marches, far more than you would ever think about or that you saw or heard in the news. It was unbelievable. Stuff you read about in a book is on the good side. My mama would have killed me if I had left and went over to Albany.

Excerpted from Chasing Me to My Grave: An Artist's Memoir of the Jim Crow South. Used with the permission of the publisher, Bloomsbury Publishing. Text copyright © 2021 by Winfred Rembert and Erin I. Kelly. Artwork copyright © 2021 by Winfred Rembert/Artists Rights Society (ARS), New York.