Door Locks Throughout History
This article relates to A Peculiar Combination
In Ashley Weaver's novel A Peculiar Combination, the heroine is a safe-cracker who breaks into houses by picking door locks. Locks that operate with keys, including those typically used on doors, haven't changed all that much within the past century and a half. In fact, personal door locks in use today are of the same basic design patented by Linus Yale in 1848.

The earliest known door lock was discovered during an archaeological excavation at the Palace of Khorsabad, which was constructed in ancient Assyria — what is now Northern Iraq. Dated to around 4000 BCE, the lock had wooden pins of various lengths built into a bolt that kept a door from opening. A lever-like key was inserted that would lift the pins out of the way, allowing the bolt to be withdrawn and freeing the door. The Egyptians developed a similar wooden door lock around that same time period.

From Egypt the pin lock moved to Greece and Rome. The Romans improved on the design by creating their mechanisms out of metal, thereby making them harder to break. They also made keys small enough so they could be easily transported; some had their keys fashioned into jewelry to advertise their wealth.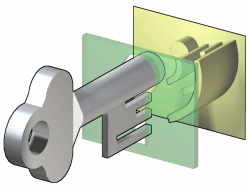 Warded locks also date back to ancient times, with recorded use in Rome and China, and began to be crafted out of metal in England during the Middle Ages. These used a series of concentric plates ("wards") to block the key from turning if it didn't line up with the lock, in theory ensuring that only a key specifically created for an individual lock could be used. However, the lock could be bypassed by a "skeleton key" — a key with its notches filed down to keep it from getting snagged by the wards. These lock-and-key mechanisms evolved over time to become more ornate and more complex — although skeleton keys evolved right along with them, so they were never terribly secure.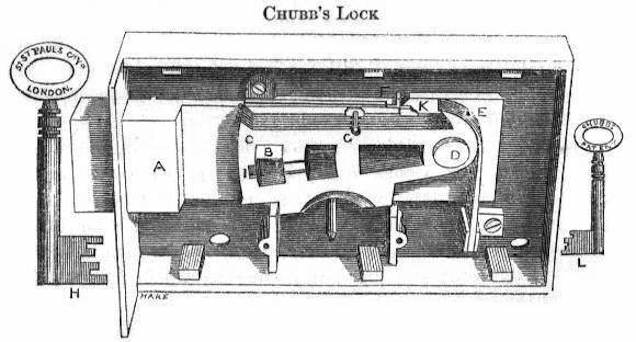 In 1778, Englishman Robert Barron created the double-acting tumbler lever lock. This device had between two and four levers of varying lengths, each of which had to be lifted to a specific height; the lock would not unlatch if the levers were too high or too low. A few years later, another Englishman, Joseph Bramah, improved on the design, using metal wafers instead of levers. He was so confident in the security of his mechanism that he displayed a "challenge lock" in the window of his shop, starting in 1790, and offered 200 gold guineas (about $200,000 in today's money) to anyone who could pick it. It remained impenetrable for 61 years until American locksmith Alfred C. Hobbs cracked it at the 1851 Great Exhibition in London, taking 51 hours to do so. This type of lock is manufactured and sold in London to this day. American Jerimiah Chubb patented a lock in 1818 based on Bramah's design, adding a re-locker to the device. The lock would jam if the wrong key was used, and it could only be reset with the original key. Like the Bramah lock, the Chubb version was thought to be completely secure until it was picked — also at the Great Exhibition, and also by Hobbs.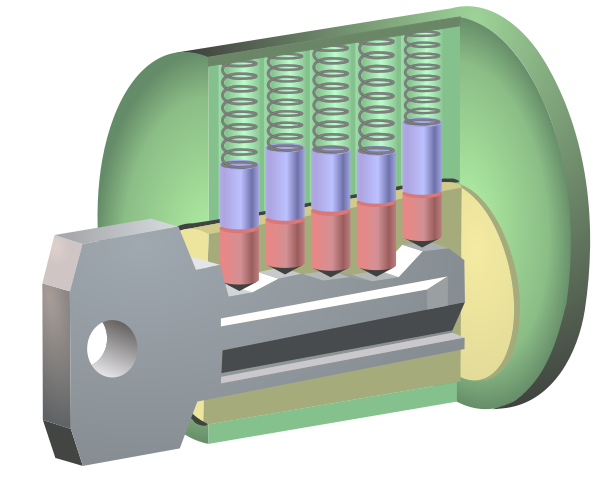 Linus Yale combined the tumbler lock with the pin lock in the mid-1800s, employing pins of various lengths that, when properly aligned using a ridged key, allowed a plug to turn, thereby releasing a bolt. His design was patented in 1848, and his son, Linus Yale Jr., later improved on it, inventing a small, flat key with ridges and a serrated edge that was cut for a specific set of pins. The Yales' basic lock design remains the most common type in use today, practically unchanged from when it was created more than 150 years ago. However, the mechanical lock may be on its way out with the evolution of newer technologies, such as facial recognition, voice recognition and fingerprint readers.
Illustration of a warded lock by Wapcaplet (CC BY-SA 3.0)
Illustration of Chubb's lock by unknown artist, circa 1850
Illustration of a pin tumbler lock, derivative work by Pbroks13 based on original by Wapcaplet (CC BY-SA 3.0)
Filed under Cultural Curiosities
This "beyond the book article" relates to A Peculiar Combination. It originally ran in June 2021 and has been updated for the May 2022 paperback edition. Go to magazine.
This review is available to non-members for a limited time. For full access become a member today.
Membership Advantages
Reviews
"Beyond the Book" articles
Free books to read and review (US only)
Find books by time period, setting & theme
Read-alike suggestions by book and author
Book club discussions
and much more!
Just $45 for 12 months or $15 for 3 months.