The Evolution of the U.S. Spacesuit
This article relates to Project Hail Mary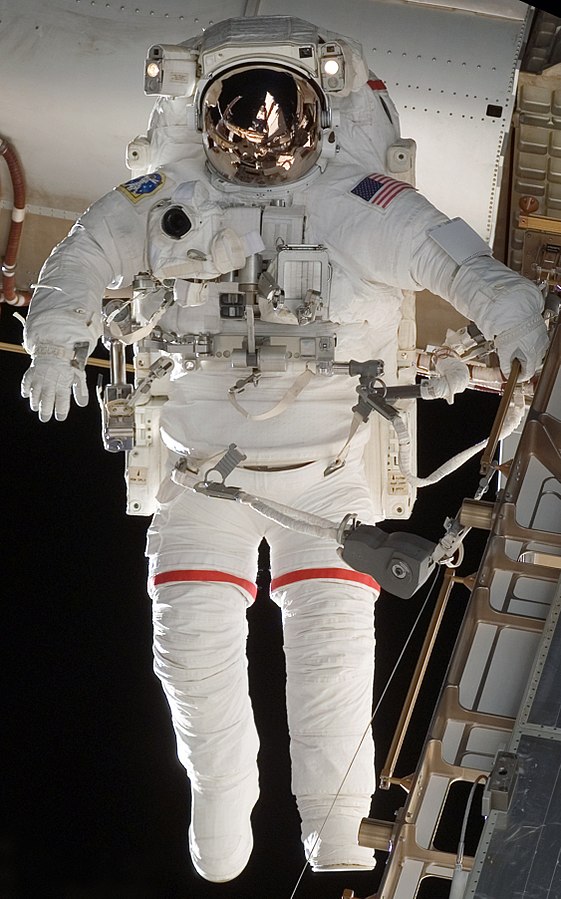 In Andy Weir's science fiction novel, Project Hail Mary, the main character periodically dons a spacesuit to perform maintenance outside his spacecraft or to keep himself safe when conditions inside it become life-threatening.

Spacesuits are critical to humanity's ability to explore the cosmos. The astronaut must be protected from (and be able to operate in) the vacuum of space as well as its temperature extremes; for example, temperatures on the outside of the International Space Station can vary from 121°C (250°F) on the side facing the sun to -157°C (-250°F) on the dark side. Spacewalks, known as extravehicular activities or EVAs, may last for many hours, so the suits must provide enough air, water and food for the astronaut to be able to work productively, along with a means for them to relieve themselves so they don't have to return to the ship for such a mundane purpose. And space isn't as empty as one might think; micrometeoroids — space debris about the size of a speck of dust — travel at about 22,000 mph, and a spacesuit has to be able to withstand impact from them without puncturing. In addition, there are millions of man-made pieces of space junk orbiting the Earth. A one-centimeter fleck of paint in space can inflict damage equivalent to a 550-pound object traveling at 60 mph on Earth.

The spacesuit actually evolved from the flight suits used by jet pilots. As new technologies allowed these crafts to fly higher and faster, it became evident that the men in the cockpits needed more protection during high-altitude flights. The first garments consisted of a neoprene rubber-coated fabric with a more rigid layer covering it to maintain air pressure within the suit. A hose ran from oxygen tanks to the suit to provide breathable air to the pilot.

Scientists at NASA decided to adapt the flight suit for use during the Mercury program (1958 to 1963), which had the modest goal of placing a manned craft into low-Earth orbit and returning it safely to Earth. To provide additional protection for the astronauts during this endeavor a layer of aluminized Mylar was added over the rigid fabric. Like jet pilots, Mercury astronauts remained seated and strapped in during the duration of their flight, so the spacesuit really only offered protection against depressurization of the cabin.

The objectives for the next program, Gemini (1961-1966), included a spacewalk, where an astronaut would actually leave the safety of the capsule. As a result, a more advanced spacesuit was required that would offer additional protections. A human-shaped neoprene rubber layer constrained by netting was added to stand up to the anticipated vacuum of space, with oxygen and cooling provided by an umbilicus to the ship. (It's said that it didn't work well, causing the helmet to fog and making it difficult to see.)

With the Apollo missions (1968-1972) came the need to offer protection during a moonwalk. This garment was truly a technological marvel; it had 12 layers of various protective materials, high-tech boots and gloves, and a portable life-support backpack that provided oxygen and removed carbon dioxide. It weighed about 180 pounds on Earth but only 30 on the moon due to its much lower gravity.

As the United States' space program continued with shuttle missions and work aboard the International Space Station (ISS), spacesuits continued to improve. Today's version is called the Extravehicular Mobility Unit (EMU), and is comprised of 13 layers of various materials (nylon, spandex, Mylar, Gore-Tex and Kevlar, among others) woven together. The technology it uses is so advanced it's considered a single-person spacecraft.

Just a few of the latest enhancements include:
The Liquid Cooling and Ventilation Garment (LCVG), which removes excess body heat produced by the astronaut during spacewalks (it's kind of like long underwear laced with thin plastic tubes that circulate cool water).
An In-suit Drink Bag (IDB) that provides drinking water for the astronaut during the spacewalk. It holds 32 oz of water and has a straw positioned next to the astronaut's mouth. It can also hold a specially-designed rice-paper-covered fruit and cereal bar, but it has to be eaten all at once so crumbs don't float in the helmet. (Most astronauts prefer to eat prior to the spacewalk and not bother with the bar.)
The Primary Life Support Subsystem (PLSS), which provides oxygen, power, carbon dioxide removal, cooling water, radio equipment and a warning system. It also has a charcoal cartridge to remove odors and runs on a rechargeable battery.
An Extravehicular Visor Assembly (EVA), which is comprised of a metallic-gold-covered visor to filter sunlight; a clear, impact-resistant cover for thermal and impact protection; adjustable blinders to block sunlight; four headlamps; and a TV camera.
There is a meticulously observed, 25-step procedure for putting on the EMU. Although all told it's only 3/16" of an inch thick, it weighs 280 pounds on Earth and costs $12 million to produce. Because storage is at a premium during flights to the ISS, the spacesuits are kept at the station and are comprised of interchangeable parts so they can in theory be modified to fit any astronaut. (This became a problem when NASA had to postpone a highly-publicized, women's only spacewalk in 2019 when they discovered there weren't enough correctly-sized parts available to complete two female-sized suits.) NASA is currently working on other improvements to the EMU, along with creating a new spacesuit to support planned missions to Mars and beyond.
NASA EMU spacesuit
Filed under Medicine, Science and Tech
This "beyond the book article" relates to Project Hail Mary. It originally ran in June 2021 and has been updated for the October 2022 paperback edition. Go to magazine.
This review is available to non-members for a limited time. For full access become a member today.
Membership Advantages
Reviews
"Beyond the Book" articles
Free books to read and review (US only)
Find books by time period, setting & theme
Read-alike suggestions by book and author
Book club discussions
and much more!
Just $45 for 12 months or $15 for 3 months.