Johannes Kepler (1571-1630)
This article relates to Everyone Knows Your Mother Is a Witch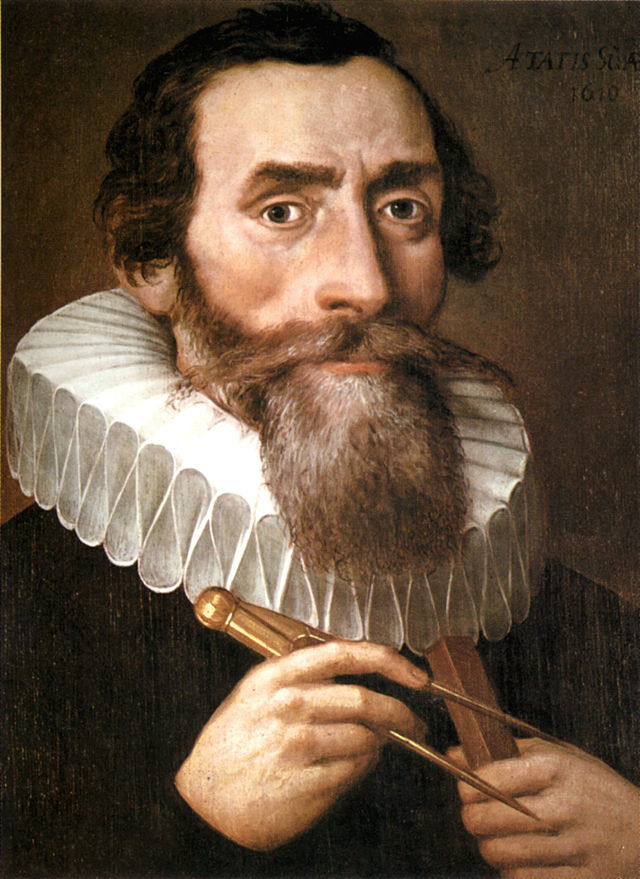 The narrator of Rivka Galchen's novel Everyone Knows Your Mother Is a Witch is Katharina Kepler, mother of noted astronomer Johannes Kepler. Kepler was born in 1571 in Weil der Stadt, Württemberg, a German territory within the Holy Roman Empire. His father, whom Kepler pronounced "an immoral, rough and quarrelsome soldier," was a mercenary who abandoned the family when Johannes was five years old. Though he was sickly and from a poor background, Kepler's intellect was quickly recognized and encouraged. After grammar school, he went on to a Protestant seminary at Adelberg and continued his religious studies at the Protestant university in Tübingen.

Kepler's interest in astronomy began when he was young; he watched the Great Comet of 1577 and observed an eclipse in 1580. Although his primary field of study was religion, he dabbled in the science, which was closely linked to astrology at that time. His passion was encouraged at Tübingen by astronomer Michael Maestlin, who introduced him to the theories of Copernicus, which state that the Earth revolves around the sun and not the other way around as was commonly believed. (In fact, the heliocentric model was not officially accepted by the Catholic church until 1822.)

In 1594, Kepler landed his first job as a mathematics instructor at the Protestant seminary in Graz. It was there that he penned his first important paper, the Mysterium cosmographicum ("Cosmographic Mystery"), which defended Copernicus's heliocentric concepts. Kepler met the twice-widowed Barbara Müller in 1595 and the couple were wed in 1597. Although their marriage ended up being an unhappy one, they produced five children (only two of whom lived to adulthood).

An ardent Lutheran, Kepler was forced to leave his position at Graz in 1600 at the beginning of the Counter Reformation, during which the university instructors were given the choice of switching to Catholicism or losing their jobs. He was invited by Dutch astronomer Tycho Brahe, Imperial Mathematician to Holy Roman Emperor Rudolf II in Prague, to work with him on the Rudolphine Tables, a star catalog and set of planetary tables used to calculate horoscopes. When Brahe died unexpectedly a year later, Kepler was appointed in his place to complete the endeavor.

The highly prestigious position not only afforded Kepler opportunities to work on his astronomical theories and observations, but also gave him access to Brahe's private papers. These included measurements that Kepler used in determining that Mars' orbit was elliptical, not circular. This discovery led to the establishment of Kepler's First Law, which states that all planets travel around the sun along elliptical paths. That in turn led to his Second Law, according to which a line joining a planet to the sun sweeps over equal areas in equal times in its orbit. In other words, the speed of a planetary orbit varies according to how close the planet is to the sun. These two laws were published in Kepler's Astronomia nova ("A New Astronomy") in 1609.

The year 1611 marked the start of a difficult period for Kepler. His patron, Rudolf II, abdicated, and Kepler retreated to Linz, Austria, where he assumed the post of district mathematician. His son Friedrich died that same year, and his wife also succumbed to illness in 1612. He married his second wife, Susanna, shortly thereafter, and this time the union was a happier one. The couple eventually would have seven children, although five would die during childhood. In the following years, Kepler was heavily involved in defending his mother from charges of witchcraft.

Despite the distractions in his personal life, Kepler continued to make great strides in his experiments and observations, publishing his most famous work, the Harmonices mundi ("Harmonies of the Worlds"), in 1618. The book was a work of science but, like many works of the time, included philosophical and spiritual arguments; Kepler believed the motion of the planets produced a musical harmony that could be heard by a person's soul. Other topics covered in Harmonices included Kepler's Third Law, which established a mathematical relationship between the average distance of a planet from the sun and the time it takes for that planet to orbit the sun.

The Thirty Years' War, a conflict driven by religious divide, also began in 1618. As a city employee Kepler was exempt from decrees that expelled all Protestants from the area, but he and his family nevertheless suffered discrimination and persecution; they were eventually forced to leave Linz in 1626. Kepler died of a fever in Regensburg, a town in Bavaria, in 1630.
Portrait of Johannes Kepler (1571-1630) in 1610, unknown artist
Filed under People, Eras & Events
This "beyond the book article" relates to Everyone Knows Your Mother Is a Witch. It originally ran in June 2021 and has been updated for the June 2022 paperback edition. Go to magazine.
This review is available to non-members for a limited time. For full access become a member today.
Membership Advantages
Reviews
"Beyond the Book" articles
Free books to read and review (US only)
Find books by time period, setting & theme
Read-alike suggestions by book and author
Book club discussions
and much more!
Just $45 for 12 months or $15 for 3 months.