Black Americans in Paris
This article relates to The Final Revival of Opal & Nev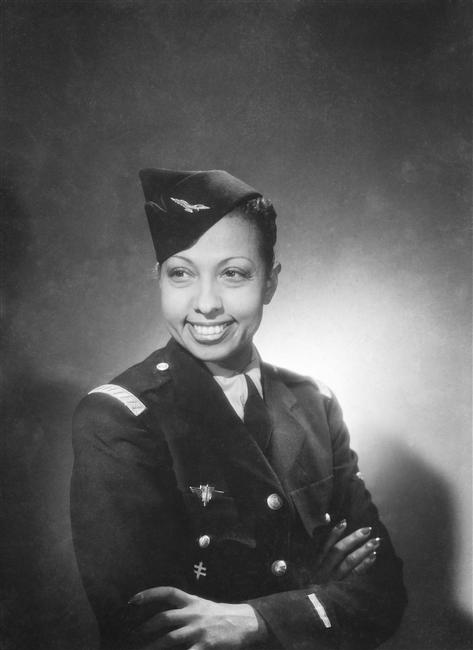 In The Final Revival of Opal & Nev, Opal Jewel finds solace in Paris when her music partner, Nev Charles, has become increasingly unreliable due to an opioid addiction.

It begins at Versailles with a charity fashion show designed to raise money for the palace's restoration, where celebrity attendees include Stephen Burrows, one of the first famous African American fashion designers, and singer-dancer Josephine Baker, who is 67 years old and resplendent in a sequined catsuit and a headdress with feathers. By fall of 1973 when this scene from the novel takes place, the real-life Baker had been living full-time in Paris for over 25 years. She fell hard for the city in 1925 when she first performed there. Just 19 years old at the time, she dazzled Parisians as part of an all-Black revue (La Revue Nègre). In 1937 she became a proud French citizen and even dabbled in espionage to support her adopted country during World War II.

Josephine Baker was one of many 20th-century Black American musicians, artists and writers who sought better conditions for themselves in Paris after experiencing racial animosity in the United States. Jazz great Duke Ellington and his orchestra made multiple trips there. Trumpeter Louis Armstrong lived in a Parisian hotel while performing around town from 1934-1935. Musician Sidney Bechet traveled with Baker as part of the all-Black revue, and later made jazz well-known and revered in the neighborhood of Montmartre, famous for its nightclub scene.

Leroy "Roughhouse" Haynes, a Morehouse College graduate and ex-football player, was stationed in Germany during World War II and gravitated to Paris after it ended. There, he found freedom of the heart, marrying a white Frenchwoman, Gabrielle Lecarbonnier. In 1949, he found freedom of the soul, opening with Lecarbonnier a restaurant called Gabby and Haynes, which specialized in soul food. They had a rough go of it at first, but the restaurant was buoyed by fellow Black GIs whose raves lured writers and jazz musicians there. He and Gabrielle split, and he spent time in Germany again before returning to Paris, this time to open a solo restaurant called Chez Haynes, which, despite his death in 1986, remained open until 2009.

In a Smithsonian Journeys Quarterly article from April 2015, writer Thomas Chatterton Williams wondered if what had attracted Josephine Baker and Sidney Bechet, along with writers like James Baldwin and Richard Wright in the 1950s-'70s, still existed in Paris. His father had fallen hard for the city and often urged Williams to go while he was growing up.

So he went, moving there from Brooklyn in 2011 with his wife, who is a second-generation Parisian. After arriving, he thought of Leroy Haynes and the other Black luminaries of Paris: "It fills me with pangs of nostalgia to imagine that not so long ago, if I'd squinted hard enough, I would have spotted Louis Armstrong, Count Basie, or even a young James Baldwin…" He discovered that "by the time Leroy Haynes died in 1986, the legendary postwar black culture…had largely dissipated." So what was left?

Exploring Paris on his own modern-day terms, Williams meets Black poet, singer, and actor Saul Williams, who he feels is "a modern-day Josephine Baker or Langston Hughes." He also meets Jake Lamar, a novelist and playwright who has been living in Paris since 1992. Lamar explains that the old generation has passed away, including Tannie Stovall, a physicist who hosted "first Friday" dinners for "brothers" that were a must for African Americans who had moved to Paris or were just passing through. Lamar's generation, in their 50s and 60s, continues that tradition as much as they can, and Williams attends one such dinner.

However, Williams is careful to qualify his experience in non-utopian terms: "This traditional extension of human dignity to black expatriates is not the function of some magical fairness and lack of racism inherent in the French people. Rather, it stems in large part from the interrelated facts of general French anti-Americanism, which often plays out as a contrarian reflex to thumb the nose at crude white-American norms, along with the tendency to encounter American blacks—as opposed to their African and Caribbean counterparts—first and foremost as Americans and not as blacks."

Historians working on the music history blog Musical Geography, writing about Josephine Baker and Sidney Bechet, take a more overtly critical view, describing the popularity of Black performers in Paris during the Jazz Age as fetishistic. Black performers in Parisian jazz clubs, in their estimation, were "subject to the exoticized, primitivist expectations of their usually-white audiences." While they were escaping the more overt and hostile racism prevalent in the United States, in Paris these performers were subjected to the somewhat more benign racism of appropriation and tokenism.
Josephine Baker in French military attire, 1948
Filed under Places, Cultures & Identities
This "beyond the book article" relates to The Final Revival of Opal & Nev. It originally ran in June 2021 and has been updated for the March 2022 paperback edition. Go to magazine.
This review is available to non-members for a limited time. For full access become a member today.
Membership Advantages
Reviews
"Beyond the Book" articles
Free books to read and review (US only)
Find books by time period, setting & theme
Read-alike suggestions by book and author
Book club discussions
and much more!
Just $45 for 12 months or $15 for 3 months.