American Pokeweed
This article relates to Deacon King Kong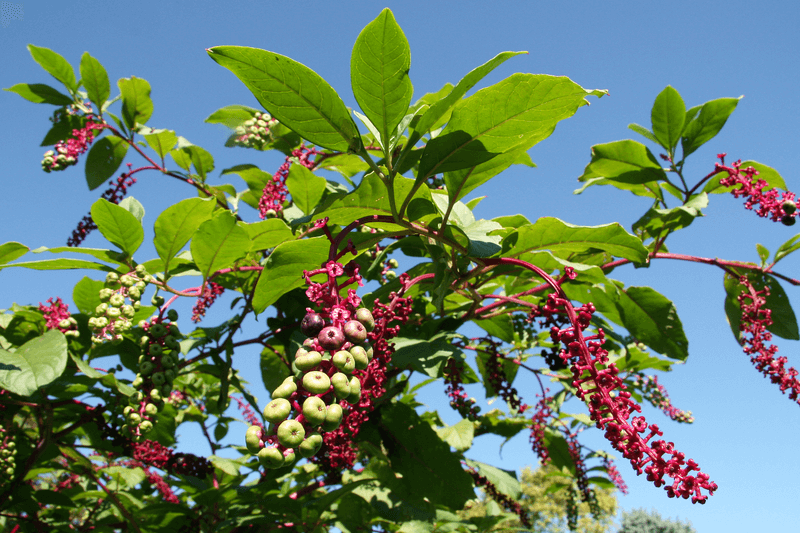 In James McBride's novel Deacon King Kong, Sportcoat spends his Wednesdays helping an elderly Italian woman scour the parking lots of their Brooklyn neighborhood for plants — weeds, really — that she feels compelled to "rescue." One plant she obsesses about finding is pokeweed, a poisonous shrub she believes can help lower her blood pressure if prepared correctly.

The pokeweed — or Phytolaccaceae — family is comprised of about 100 different species found around the world, generally in tropical and subtropical locations. A few varieties exist in North America, but for the most part the only widely distributed native on the continent is American pokeweed (phytolacca americana), which is common in much of the United States and some parts of Canada. The plant is known for its adaptability and can often be found along roads and in railway beds, parking lots, industrial areas and other disturbed or overgrown places. It prefers direct sunlight but can survive in shadier locales.

The resilient perennial has a large, white taproot and bright green oblong leaves. It can grow eight to ten feet tall under the right conditions (and there have been reports of some plants reaching upwards of 20 feet). During the summer, it displays flowers that are mostly white but can take on shades of green, pink or purple. In late summer or autumn, the flowers develop into the plant's most recognizable feature: clusters of plump, deep purple berries along bright pink stalks. The above-ground parts typically die off in the winter months, but the taproot is hardy, sending up new shoots every spring; pokeweed plants have been known to live 40 years or longer. They are consequently considered aggressive and difficult to eradicate.

Birds love pokeweed berries, which make up as much as 10% of some species' diets. In return, the birds provide a service to the plant, dispersing its seeds via their excrement. Human activity also contributes to pokeweed's widespread presence, and the seeds can germinate in pretty much any exposed soil. Unfortunately, all parts of the plant are toxic to mammals, with the roots being the most lethal. The leaves are considered to have an intermediate toxicity and the berries to be the least poisonous, although even those can kill children if they ingest them. Most livestock tend to avoid pokeweed, but desperate animals may eat the leaves, and accidental mixing of the plant with cow or pig fodder can produce dire results.

In spite of its poisonous nature, American pokeweed has been used as a food source by some cultures, appearing especially in Native, African American and Southern cuisines. To reduce the level of toxicity, young leaves and stems can be harvested before any red begins to show and boiled at least twice, with a water change in between boils. However, even when treated this way, there is still a risk of poisoning. The resulting supposedly detoxified greens may be prepared in any number of ways — sautéed, mixed with other greens in a salad, breaded and fried. They are said to taste similar to asparagus or spinach, and contain vitamins A and C, beta-carotene and iron.

American pokeweed was used medicinally by both Natives and early European settlers, appearing in medical texts in the 17th and 18th centuries. The root was employed in various forms to treat pain, hemorrhoids, inflammation, skin conditions, fever and injuries, while the leaves and berries were made into a tea to treat many of the same ailments. Pokeweed berries were worn on necklaces by some Natives to ward off infectious diseases, and they were crushed to create bright red inks and dyes (giving rise to one of the plant's other names: inkberry).

Recently, scientists have started looking into new potential applications for the plant, including possible treatments for lymphoma and HIV (human immunodeficiency virus). The dye from the berries has been used to coat solar cells to improve their ability to convert sunlight into electricity, and the plant's toxins are also being explored as a means to control invasive zebra mussels.
American pokeweed plant photographed in Warren County, Indiana.
Filed under Nature and the Environment
This "beyond the book article" relates to Deacon King Kong. It originally ran in December 2020 and has been updated for the February 2021 paperback edition. Go to magazine.
This review is available to non-members for a limited time. For full access become a member today.
Membership Advantages
Reviews
"Beyond the Book" articles
Free books to read and review (US only)
Find books by time period, setting & theme
Read-alike suggestions by book and author
Book club discussions
and much more!
Just $45 for 12 months or $15 for 3 months.