Twins
This article relates to The Vanishing Half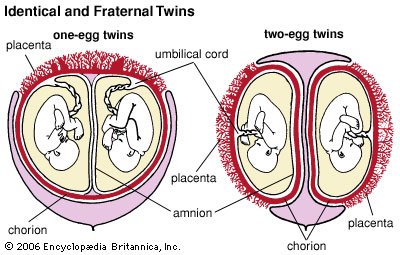 Brit Bennett's novel, The Vanishing Half, follows the lives of Stella and Desiree Vignes, identical twin girls born in Louisiana in 1938.

As you likely know, there are broadly two types of twins: fraternal and identical. Fraternal, or dizygotic, twins are formed when two separate eggs are fertilized by two separate spermatozoa, creating two distinct embryos with their own genetic profiles. They're basically just like any siblings, looking, sounding and acting differently from each other, and they can also be different genders; they just happen to have been conceived at the same time in the same uterus.

Identical twins, also known as monozygotic twins, occur when a single fertilized egg splits, forming two identical copies of itself. It was once thought that the resulting twins had identical genetic profiles, but recent research has shown that while they're very similar, they're not truly identical. As each embryo's genes reproduce to create a viable fetus, subtle changes can be introduced in the genetic code that result in minor differences. Geneticists are just beginning to understand these "copy number variations," but believe they could be responsible for differences in twins' personalities, as well as the presence or absence of genetic diseases like Alzheimer's or Parkinson's in just one twin. In addition, fingerprints and dental patterns are unique and not shared between identical twins.

The number of twins per birth has varied throughout history, although records were incomplete in even the most developed countries until the last hundred years or so, so it's hard to know for sure. The rate is thought to have been about 15 sets of twins per 1,000 pregnancies until the middle of the 20th century, but more recently that number has climbed to over 30 per 1,000. Scientists point to several reasons for this "twin boom" including the use of in vitro fertilization (IVF), during which multiple embryos are often implanted (although a number of countries now advise against embedding more than one embryo at a time, reducing the rate of multiple births due to IVF). Women choosing to have children later in life is another factor, as a woman's body is increasingly likely to release more than one egg each month as she ages. Scientists also note that the use of hormones in the production of cow's milk is a possible factor. Consequently, the increase in twin births is almost entirely due to an increase in the number of fraternal twins. The rate of identical twins has stayed constant at four per 1,000 — a statistic that is the same for all mammals (except, weirdly, armadillos, whose offspring are all identical quadruplets or octuplets).

Women in Massachusetts birth more twins than any other state in the U.S., at 45 per 1,000 pregnancies, with Connecticut and New Jersey following close behind at 42 per 1,000. Researchers think this is because women in more affluent areas are more likely to pursue careers and have children later, and are also more likely to have the resources to pursue IVF. The odds of having twins also increases for women who were twins themselves (the predisposition toward having fraternal twins is genetic). Tall women, too, are more likely to have twins — this is thought to be because the same hormone responsible for bone growth also stimulates the release of multiple eggs.

Twins have long been thought to have a special bond, and science is proving this to be true. A 2011 study in Italy using 3D videos of twins in their mothers' wombs discovered that at 14 weeks' gestation, twins routinely reach out to each other in the womb, and by 18 weeks each touches the other twin more than they touch themselves. The bond can continue after birth; 40 percent of twins develop their own special language. There is anecdotal evidence that identical twins have a sort of telepathy and know when their twin is in crisis, but there's no scientific proof that this type of connection truly exists.
Diagrams of identical and twins, courtesy of Encyclopedia Britannica
Filed under Medicine, Science and Tech
This "beyond the book article" relates to The Vanishing Half. It originally ran in June 2020 and has been updated for the February 2022 paperback edition. Go to magazine.
This review is available to non-members for a limited time. For full access become a member today.
Membership Advantages
Reviews
"Beyond the Book" articles
Free books to read and review (US only)
Find books by time period, setting & theme
Read-alike suggestions by book and author
Book club discussions
and much more!
Just $45 for 12 months or $15 for 3 months.