Janeites: Austen Fans Past and Present
This article relates to The Jane Austen Society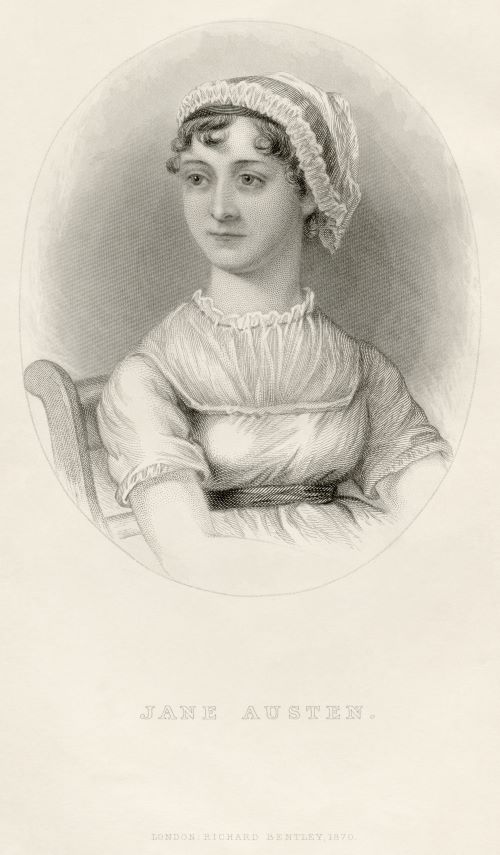 According to literary scholar Claudia L. Johnson, "Janeism" is a "self-consciously idolatrous enthusiasm for 'Jane' Austen and every primary, secondary, tertiary (and so forth) detail relative to her." The devotees who share this enthusiasm, also known as "Janeites," are in the simplest sense fans of Jane Austen and her writings. Today, however, there is an underlying negative connotation to the term "Janeite" with roots in gender issues and the ways in which Austen's work has been conceptualized over the past 200 years.

Although Austen did not enjoy fame during her lifetime, it wasn't long after her death in 1817 that her popularity began to grow. As early as the 1850s, but especially after her nephew's A Memoir of Jane Austen was published in 1870, fans began traveling to England to visit sites connected to the author. It could be said that these were the earliest Janeites, although the term didn't enter the English language until the mid-1890s, when it was coined by George Saintsbury in his introduction to a new edition of Pride and Prejudice. During the late 19th and early 20th centuries, the term usually referred to a socio-economically elite and mostly male readership. These readers often felt they had a personal connection to Austen and that they were the only ones who could truly appreciate the subtleties of her work. They wanted to distinguish themselves from more casual, working-class readers who encountered Austen's writing in the form of cheaply produced penny editions. In addition to this elitism, there was an almost religious undertone to Janeism. As Austen's work became more widely studied and known, the group that shared in this worshipful attitude became less exclusive and began to stretch across social and economic classes.

Rudyard Kipling's short story "The Janeites," published in 1924, highlights Janeites' quasi-religious tendencies and professed personal association with Austen. In the story, a WWI veteran describes how he joined the secret society of the Janeites while stationed at the front. He regales his listeners and explains his unique, often quite humorous, opinions about Austen's work. In the end, however, he turns serious when he recalls how her novels saved his life: "You take it from me, Brethren, there's no one to touch Jane when you're in a tight place. Gawd bless 'er, whoever she was."

In 1928, British literary scholar H. W. Garrod gave a lecture titled "A Depreciation of Jane Austen," in which he denigrated the author because she was a woman, and claimed that male readers of Austen's works were unmanly. By the 1930s and 1940s, Austen's work was firmly in the literary canon and thus a subject for serious study. While scholars debated the literary and societal characteristics of her oeuvre, much of the non-specialist public read Austen's novels more as Regency-era romances than ironic critiques of period mores. Perhaps in part due to Garrod's lecture as well as the bifurcation of the readership into scholarly and lay camps, the term "Janeite" began to take on a more disparaging meaning. It came to be associated with an amateur, albeit enthusiastic, predominantly female audience, who read Austen as what is now considered "chick lit," a stereotype that persists in some respects to today.

Against the changing perceptions of her audience and works, the Jane Austen Society was founded in Chawton, England in 1940 with the goal of preserving Austen's personal and literary legacy. Another organization, the Jane Austen Society of North America (JASNA) was founded in New York in 1979—and today, with over 5,000 members, claims to be the "largest literary society devoted to Jane Austen." These dedicated societies have demonstrated that even though Janeites might sometimes be viewed as excessive in their enthusiasm for all things Jane, they are in good company.

Today, the yearly JASNA convention brings together Janeites from around the world in what Salon has described as "ComicCon for Jane Austen fans." Contemporary Janeites are a diverse cohort, mostly women but some men, ranging from literary scholars to members of Mr. Darcy fan clubs. Janeites themselves are also now considered a topic for academic inquiry, and several studies have highlighted the curious mixture of high and low brow elements of the subculture. The view that Janeites make a spectacle of their love for Austen is prevalent, and rather a stark contrast to the elite status of the original group. However, their desire to connect with the literature and personage of Austen hearkens back to the beginnings of the author's fandom. As Kipling wrote, "you've got to be a Janeite in your 'eart, or you won't have any success," a statement which applies to the attitudes of Janeites past and present.
Watercolor portrait of Jane Austen by James Andrews (based on a sketch by Cassandra Austen) from A Memoir of Jane Austen (1870) by her nephew J. E. Austen-Leigh
Filed under Books and Authors
This "beyond the book article" relates to The Jane Austen Society. It originally ran in June 2020 and has been updated for the July 2021 paperback edition. Go to magazine.
This review is available to non-members for a limited time. For full access become a member today.
Membership Advantages
Reviews
"Beyond the Book" articles
Free books to read and review (US only)
Find books by time period, setting & theme
Read-alike suggestions by book and author
Book club discussions
and much more!
Just $45 for 12 months or $15 for 3 months.