Katy Simpson Smith's novel The Everlasting is set entirely in Rome, but it takes place across multiple centuries, introducing us to separate storylines in 2015, 1559, 896, and 165. Here are some other noteworthy books that are set in one location spanning multiple centuries.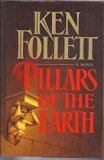 The Kingsbridge Series by Ken Follett
Originally published in 1989, The Pillars of the Earth is set in the fictional town of Kingsbridge, England in 1135. It follows the family of mason Tom Builder, who is commissioned to construct a cathedral grander than the world has ever seen. At nearly a thousand pages, it's an epic, sprawling multi-family saga on its own, but Follett continued the story of Kingsbridge in his follow-up, World Without End, published in 2007. This novel is set in 1327 and follows the descendants of the key characters from The Pillars of the Earth. A third novel, A Column of Fire, set in 1558, was published in 2017. There is a fourth installment, a prequel set in 997, called The Evening and...