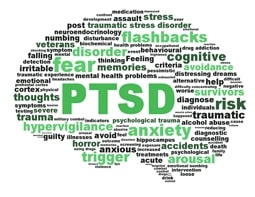 Post-traumatic stress disorder was first officially recognized in 1980 in the third edition of the Diagnostic and Statistical Manual of Mental Disorders (DSM-III) by the American Psychiatric Association.

However, the history of conflict-related PTSD is long and varied and can be traced back to the ancient world. One of the first-known records of a warrior experiencing combat stress is from Herodotus, whose account of The Battle of Marathon in 490 B.C. related the tale of a man stricken blind during fighting. At the time, explanations for the blindness were elusive, and the incident was subsequently attributed to "hysterical blindness," which is now known as a form of conversion disorder.

During the 17th and 18th centuries, the medical community started to come to grips with the fact that war might impact negatively on the health of combatants. Austrian physician Josef Leopold Auenbrugger identified symptoms in soldiers returned from the Seven Years' War such as depression, ...