From Herodotus to Vietnam: A Brief History of PTSD and Combat
This article relates to A Dredging in Swann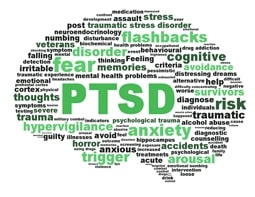 Post-traumatic stress disorder was first officially recognized in 1980 in the third edition of the Diagnostic and Statistical Manual of Mental Disorders (DSM-III) by the American Psychiatric Association.

However, the history of conflict-related PTSD is long and varied and can be traced back to the ancient world. One of the first-known records of a warrior experiencing combat stress is from Herodotus, whose account of The Battle of Marathon in 490 B.C. related the tale of a man stricken blind during fighting. At the time, explanations for the blindness were elusive, and the incident was subsequently attributed to "hysterical blindness," which is now known as a form of conversion disorder.

During the 17th and 18th centuries, the medical community started to come to grips with the fact that war might impact negatively on the health of combatants. Austrian physician Josef Leopold Auenbrugger identified symptoms in soldiers returned from the Seven Years' War such as depression, fatigue and anxiety, which he later attributed to a kind of vaguely defined, chronic homesickness he referred to as "nostalgia."

This notion of "nostalgia" continued throughout the 19th century and was often cited in the American Civil War as a rationale for symptoms consistent with PTSD. The term "soldier's heart" was also part of common parlance and was likely to be blamed on "moral turpitude" and "feeble will" rather than the stress-vulnerability of soldiers exposed to warfare. Typically, in the years prior to modern psychiatry, treatment was less than conducive to recovery. Shaming of soldiers was considered a beneficial remedy, as was returning them to service to engage in vigorous combat duties.

In the early years of the 20th century and during the First World War, this reluctance to acknowledge a soldier's prolonged exposure to brutality and horror as the root cause of psychological disturbance persisted. Symptoms of "shell-shock" experienced by those afflicted were attributed to proximity to the brain-curdling cacophony of artillery fire and shelling. As in previous conflicts, the condition was generally dismissed as the result of some kind of moral weakness. At the time, treatments ranged from electroshock therapy to the use of general anesthesia.

However, while misunderstanding persisted, it was during World War I that opinion regarding the epidemiology of PTSD started to shift. There were practitioners working with veterans whose outlooks and methods of treatment were increasingly compassionate and psychodynamic, such as military psychologist W.H.R. Rivers. Rivers pioneered empathetic treatments for PTSD during his time at Craiglockhart War Hospital for Officers near Edinburgh. His work would bring him into contact with notable literary luminaries Wilfred Owen, Robert Graves and Siegfried Sassoon, as is depicted in Pat Barker's 1991 novel Regeneration.

During World War II, attitudes relating to PTSD continued to evolve. While many of the traditional, morally reproachful outlooks remained, more military psychologists and psychiatric professionals were starting to adopt humanistic approaches. Abram Kardiner, in his seminal 1941 work The Traumatic Neuroses of War, ventured that combat neuroses were psychological in origin rather than the result of personality deficiency.

However, nearly 40 years passed before the medical establishment formally recognized PTSD as a condition. Following the conflict in Vietnam in the 1960s and '70s, returning U.S. veterans shone a spotlight on PTSD by campaigning on their own behalf to have their symptoms clinically recognized. The onset of PTSD may occur months and even years after experiencing traumatic events, so returning combatants were in some cases only susceptible to symptoms long after discharge, which made it difficult for them to seek disability compensation.

Veterans' campaigning helped ensure that PTSD was included in the DSM-III (albeit not until five years after the last soldier had returned from Vietnam, and thus too late to help many) and that a more compassionate approach to treatment was adopted in the wake of their experiences, though many military veterans still have problems finding effective and affordable treatment. While PTSD is often associated primarily with combat, the diagnostic criteria as laid out in the DSM-III encompass a variety of traumatic events deemed to be "outside the range of usual human experience." These include sexual assault, war, torture and natural or man-made disasters. In order for diagnosis to occur, an individual needs to have had an experience such as the ones identified above prior to experiencing a deterioration in their mental health indicative of PTSD.
Filed under Medicine, Science and Tech
This "beyond the book article" relates to A Dredging in Swann. It originally ran in February 2020 and has been updated for the January 2021 paperback edition. Go to magazine.
This review is available to non-members for a limited time. For full access become a member today.
Membership Advantages
Reviews
"Beyond the Book" articles
Free books to read and review (US only)
Find books by time period, setting & theme
Read-alike suggestions by book and author
Book club discussions
and much more!
Just $45 for 12 months or $15 for 3 months.