The Luddite Protests
This article relates to Frankissstein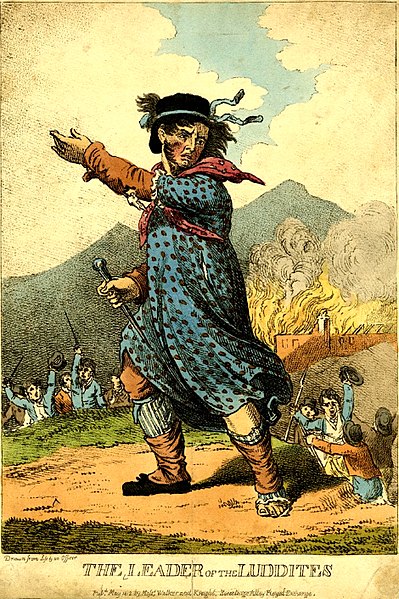 In one narrative thread of Jeanette Winterson's Frankissstein, Mary and Percy Shelley and Lord Byron discuss the rebellion of the Luddites, a secret organization in early 19th century England that destroyed textile machinery in protest of automated looms taking jobs from hand-weavers. The uprising began on March 11, 1811, in Nottingham when weavers broke into a textile factory and destroyed equipment using sledgehammers and other implements. The next night brought further property damage at a factory in a nearby town, and the incidents continued to repeat all across northern England over the next two years. After the initial attacks, the protesters began conducting secret meetings to organize and plan further action. They claimed to be following a leader called Ned Ludd, but this person is largely believed to have been fictitious, a symbol of courage and class equity like Robin Hood.

While we commonly use the term 'Luddite' today to refer to someone who is against or unwilling to adapt to new technology, this movement was not protesting the machines themselves, but labor conditions for mill workers. They began peaceably attempting to negotiate for higher wages, safety standards and pensions. When management failed to take these demands seriously and the looms threatened their job security on top of that, things quickly turned violent. (The socio-economic situation in England was already tense due to stress from the Napoleonic Wars; working conditions were abysmal and food prices sky high.) The Luddites wanted to be treated fairly and gain some semblance of job security, and they also felt the machines management was bringing in did shoddy work that was an insult to their skillset. They genuinely believed their tactics would eventually cause the mill owners to cave to their demands. Instead, owners petitioned the government to send some 14,000 permanent soldiers to the English countryside so that they might quell the rebellion.

There were frequent, bloody clashes between the soldiers and the Luddites. In April 1812 2,000 protesters besieged a mill in the Manchester area, and the mill's owner had his own security force fire on the crowd. Three were killed and 18 wounded. There were other fatal fights that month, and several Luddites were also hanged for murdering another mill owner. Many others were exiled to Australia. The government's response was successful, and by 1813, Luddite protest activity had largely ceased. Working conditions deteriorated further across many trades as the Industrial Revolution waged on in the following years. Machines were incorporated into virtually every trade with little regard paid to safety precautions or job protection for skilled laborers whose positions faced automation.

In one of the many nods to true history in Frankissstein, Winterson depicts Lord Byron arguing in defense of the Luddites, despite the fact that he was a member of the wealthy landowning gentry. Byron truly did stand up for the protesters, declaring before the House of Lords that the "once honest and industrious body of the people" were in "unparalelled distress." His position in fact was rather in keeping with his beliefs as a Romantic, who mistrusted industrialization and sympathized with the plight of its victims. In an ironic twist of history, his daughter, Ada Lovelace, worked on one of the earliest iterations of the computer, Charles Babbage's Analytical Engine (which contained a component called a 'jacquard loom'). Ada's mother, Lady Byron, immersed her in science and mathematics from an early age, setting her on the path to become a prodigy. Lady Byron's decision was practical: she feared her daughter would otherwise follow in the tragic footsteps of her impulsive father, who died at the age of 36 from a fever he contracted in Greece, where he was fighting in the Greek War for Independence against the Ottoman Empire.
An engraving titled "The Leader of the Luddites" depicting Ned Ludd, an imaginary figure who, like Robin Hood, was reputed to live in Sherwood Forest. Published in May 1812 by Messrs. Walker and Knight, Sweetings Alley.
Filed under People, Eras & Events
This "beyond the book article" relates to Frankissstein. It originally ran in October 2019 and has been updated for the September 2020 paperback edition. Go to magazine.
This review is available to non-members for a limited time. For full access become a member today.
Membership Advantages
Reviews
"Beyond the Book" articles
Free books to read and review (US only)
Find books by time period, setting & theme
Read-alike suggestions by book and author
Book club discussions
and much more!
Just $45 for 12 months or $15 for 3 months.