Ann Cleeves (b. 1954) is best known for her mystery novels set in rural Britain, which have sold over five million copies in the thirty-plus years she's been writing. Cleeves has penned four series before releasing The Long Call, the first entry in her new Two Rivers series: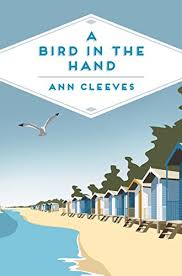 George and Molly Palmer-Jones (8 books)
Published from 1986 to 1996, these books follow George Palmer-Jones and his wife Molly as they travel throughout the English countryside, birding and solving crimes. The first entry in this series, A Bird in the Hand, was inspired by the author's personal experience. She met her husband, ornithologist Tim, while she was working as a cook in the Bird Observatory on Fair Isle. They quickly married. Soon after, according to the author's website, "Tim was appointed as warden of Hilbre, a tiny tidal island nature reserve in the Dee Estuary. They were the only residents…If a person's not heavily into birds - and Ann isn't - there's not much to do on Hilbre and that was ...