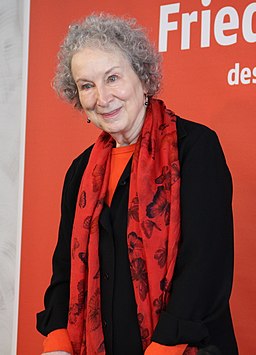 Margaret Eleanor Atwood was born in Ottawa in 1939. Although best known for her speculative fiction, she's the author of more than forty books, including works of fiction, poetry, short stories, children's works and critical essays.

Atwood's desire to be a writer stems from a revelation she had at the age of 16. As she was walking across her high school's football field, she composed a poem in her head. At that point, as she has stated in a recent interview with the Guardian, she decided she was a writer. After receiving her B.A. at the University of Toronto and a Masters at Radcliffe, she moved back to Canada to teach English at the University of British Columbia in Vancouver, publishing her first book in 1961, a poetry collection entitled Double Persephone (which she self-published, hand setting the type herself). Her first novel, The Edible Woman, followed in 1969.

The Handmaid's Tale (1985), Atwood's sixth novel, is arguably her most famous work. It has sold more than 8 ...