The Controversy Surrounding On the Origin of Species
This article relates to The Darwin Affair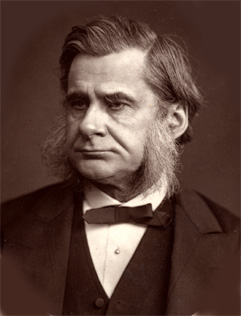 The publication of Charles Darwin's On the Origin of Species forever changed the way humankind thought of themselves and their place in the world. Almost immediately, the public took sides; you were either pro-evolution or anti-evolution. This caused considerable strife between notable public figures at the time, and also resulted in heated debates at home. While the atheists were some of Darwin's most passionate supporters, other defenders came in the surprising form of liberal Anglicans who believed that natural selection was an elegant example of God's handiwork. Thomas Huxley, the English biologist and anthropologist, is perhaps Darwin's most famous public supporter. He was so aggressive during arguments and debates that he came to be known as "Darwin's Bulldog." There were a few favorable reviews of the book in the British press, including in The Times and the National Review. But Darwin's opponents also made their opinions known, and were sometimes fierce in their hostility.

The concept of evolution had already been introduced into the public consciousness, notably by geologist Robert Chambers in his Vestiges of the Natural History of Creation, but most people, and religious authorities in particular, were adverse to the idea. Because of this, many were not keen on the topic resurfacing for further study. Darwin's theories were a direct threat to the main tenets of Christianity, that man exists because of divine purpose, not because of blind chance or evolution. Darwin's version of evolution featuring the "monkey man" idea was simply unthinkable to most. Even his previous teachers opposed him, including the geologists Adam Sedgwick and Charles Lyell, both of whom had a strong influence on Darwin during his formative years. Though these men worked in science, they tended to view the evolution of man from a religious standpoint, and were adamant that God played a role.

There was a famous public dispute in 1860, now known as the Oxford evolution debate. Bishop Samuel Willberforce argued against Darwin's theories, while Thomas Huxley argued for them. This is where Huxley gained his reputation for being intensely protective of Darwin's ideas, and following this event he began to fearlessly advocate the "Ape Origin of Man." The dramatic debate was regarded as emblematic of the struggle between religion and science, and Huxley saw it as a successful uprising against the clergy and their authority in education. Many clerical naturalists at the time were funded by the Church of England, so it's no surprise that they claimed their scientific findings were proof of God's work. For the most part, Darwin chose to insulate himself at home and ignore the negative reviews during this tumultuous period. But he was not always immune to the strain of being under the spotlight on such an international scale.

Looking back, it's remarkable to learn that On the Origin of Species took twenty years to come to fruition, and in fact, Darwin published sooner than he had planned after being made aware that British naturalist Alfred Wallace was mulling over a nearly identical theory. We are fortunate to have such a legacy, one that forms the basis of our scientific understanding of life and inspires us to continue sharing ideas no matter how controversial they may be.
Photo: Thomas Huxley
Filed under People, Eras & Events
This "beyond the book article" relates to The Darwin Affair. It originally ran in July 2019 and has been updated for the June 2020 paperback edition. Go to magazine.
This review is available to non-members for a limited time. For full access become a member today.
Membership Advantages
Reviews
"Beyond the Book" articles
Free books to read and review (US only)
Find books by time period, setting & theme
Read-alike suggestions by book and author
Book club discussions
and much more!
Just $12 for 3 months or $39 for a year.