The Transit of Venus
This article relates to Endeavour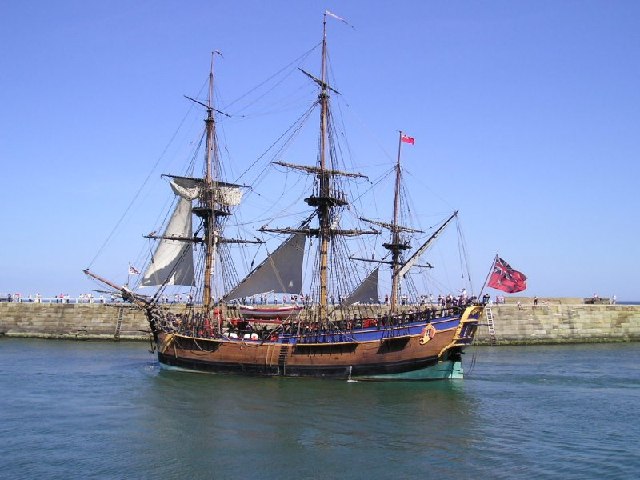 The HMS Endeavour, the eponymous subject of Peter Moore's book, was purchased by the British Navy in 1768. One of its missions was to transport a group of scientists to Tahiti where they could make astronomical measurements during a rare event called the Transit of Venus.

Venus is the third brightest object in the night sky, after the Sun and the Moon. Named after the Roman goddess of love and beauty, it is the second planet from the sun.

In astronomical terms, a transit is when a planet can be observed crossing the face of the star it orbits. From our position on the third planet from the sun, there are only two transits we can directly watch: Mercury and Venus. Due to differences in how Mercury and Venus orbit the Sun, a transit of Mercury occurs 13 or 14 times a century, while a transit of Venus happens much less frequently, occurring in pairs eight years apart and then not again for about 120 years. The last transit of Venus occurred in 2012; the next one's not due until 2117.

A transit is similar to a solar eclipse by the Moon, where that body crosses between the Earth and the Sun. Although the Moon is a fraction of the size of Venus, it is much closer to us, so an eclipse can completely block out the Sun; whereas a transit of Venus simply appears as a small black dot moving across the face of the Sun. It can be seen with the naked eye (with proper protection) and takes six to seven hours.

The 1769 Transit of Venus was deemed particularly important, as the intent was to use calculations of Venus's movement to determine the size of our solar system. German astronomer Johannes Kepler (1571-1630) had determined the relative distances of the planets to the Sun, a measurement now referred to as an astronomical unit (AU). For example, the Earth is one AU from the Sun, while Venus and Mars are .72 AU and 1.5 AU respectively. But no one knew the value of AU. Edmond Halley (1656-1742) proposed that one could find this value by taking measurements of Venus during its transit (the math can be found here for those interested). Halley died before his theory could be tested, but Britain's Royal Society vindicated his ideas in 1769. With the measurements of the scientists who accompanied Cook on his expedition, the Royal Society was able to determine the distance to the Sun to be 95 million miles (not far off from our 20th-century radar-determined measurement of just under 93 million miles). They also observed a fuzzy halo around Venus and speculated that meant the planet had an atmosphere (since confirmed).

Today, transits are used primarily to find planets outside our solar system, known as extrasolar planets or exoplanets. For example, NASA's Kepler space telescope (launched in 2009) was set to view a fixed spot in the Cygnus constellation from which it was able to continuously monitor 100,000 stars for planets. During its nine years in service (it ran out of fuel in 2018) it detected 2,662 exoplanets by observing transits across the stars, and identified more than 2,900 candidate planets waiting verification.

For those who are curious, the 2012 Transit of Venus can be viewed here.
Replica of the HM Bark Endeavour, launched in 1993. Photo by Colin F.M. Smith.
Filed under Medicine, Science and Tech
This "beyond the book article" relates to Endeavour. It originally ran in June 2019 and has been updated for the July 2020 paperback edition. Go to magazine.
This review is available to non-members for a limited time. For full access become a member today.
Membership Advantages
Reviews
"Beyond the Book" articles
Free books to read and review (US only)
Find books by time period, setting & theme
Read-alike suggestions by book and author
Book club discussions
and much more!
Just $45 for 12 months or $15 for 3 months.