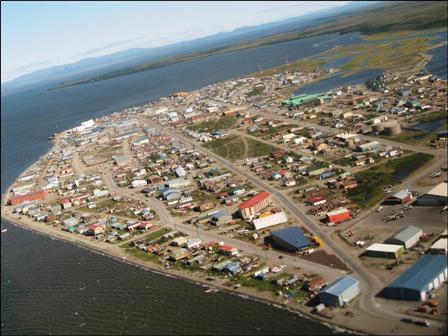 Caroline Van Hemert's memoir, The Sun is a Compass, chronicles a 4000-mile journey that concludes in northwest Alaska in the city of Kotzebue.

Kotzebue is located on a three-mile-long sand spit at the end of the Baldwin Peninsula, where the Noatak, Kobuk and Selawik rivers converge. Although it was named after Otto von Kotzebue (1787-1846), a German explorer and fur trader in the employ of the Russian Empire, the area was a central trading hub for the native population for at least 600 years before it was "discovered." The indigenous name for the area is Kikiktagruk, which means "almost an island." Trade expanded as Russian fur agents and missionaries arrived, and whalers and gold miners further supplemented the population.

Kotzebue officially became a part of the United States when Alaska was purchased from Russia in 1867. A post office was established there in 1899, and in 1900 the population was about 200. The city was incorporated in 1958, and when Alaska achieved statehood ...