Cats in Japanese Culture
This article relates to The Travelling Cat Chronicles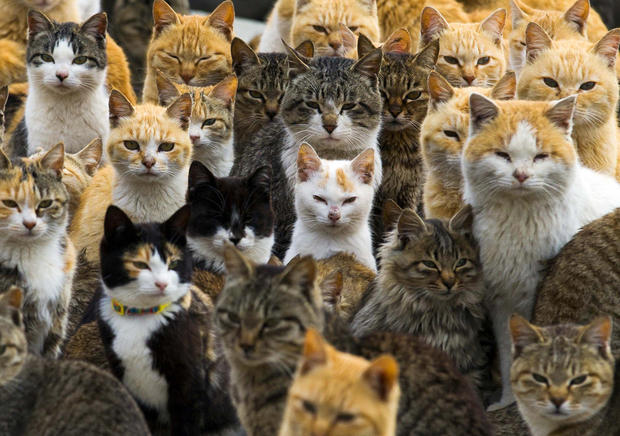 The Travelling Cat Chronicles by Hiro Arikawa is set in Japan, a country where felines are held in high esteem. Cats first arrived in Japan around 500 CE as stowaways on ships returning from China, where the animals had already been domesticated for centuries. They were quickly adopted in Buddhist temples by the resident monks, who deemed them protectors of their manuscripts (the books were written on parchment, a favorite food of mice). In the 10th century, cats were so popular and sought after, only nobles could afford them. By the end of the 16th century, cats were popular pets across all social classes; however in 1602, the government ordered the release of all house cats in an effort to combat an increase in rats, the proliferation of which had caused a crash in the silkworm industry. Cats became more and more revered over the centuries, with cat shrines popping up all over the country. Japan also has about a dozen "cat islands," such as Aoshima Island, where the felines outnumber the island's human residents 6:1.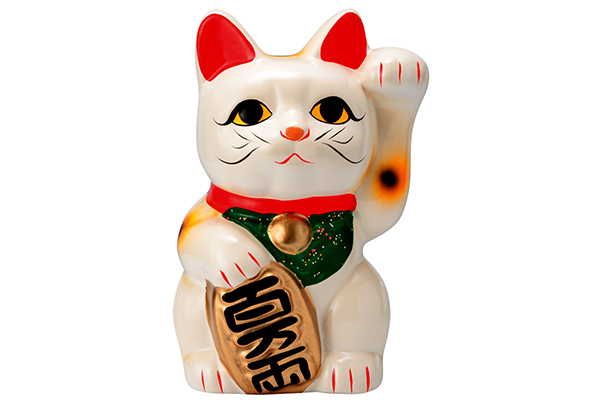 Perhaps most indicative of the Japanese belief that cats bring good fortune is the ubiquity of the maneki-neko (translated "beckoning cat"). There are many legends about the origins of this figure with one paw raised, the most popular of which is associated with the Gotokuji Temple in Tokyo. It's said that the temple was originally little more than a run-down hut, with an impoverished monk its only inhabitant. Although the monk could barely feed himself, he shared what little he had with his pet cat. One day a wealthy man was travelling by when a tremendous storm hit, and he took shelter under a tree next to the temple. He suddenly spied the monk's cat, which appeared to be beckoning him into the temple. Just as he approached, a bolt of lightening shattered the tree under which he'd just been standing. Out of gratitude he became a sponsor of the temple, which grew increasingly prosperous, and when the cat died many years later it was memorialized by the figure we know today, which became a symbol of good luck. People leave maneki-neko figures at the temple in thanks for success or good fortune.

The maneki-neko is always depicted with at least one paw up in a beckoning gesture (Japanese people beckon by holding their palm out and flapping the wrist so the fingers move up and down, essentially the upside down version of how gesture is done in Western societies). If the left paw is up, the figure is meant to attract customers to a business; a raised right paw encourages good luck and wealth, particularly in the home. The color of the figurine is also important:

Calico (white with spots) – The traditional combination, this design is thought to be the luckiest of all the maneki-neko cats.
White – The white version invokes happiness, purity and positive things to come.
Gold – A gold cat is said to bring wealth and prosperity.
Black – The black maneki-neko wards off evil.
Pink – A pink cat symbolizes success in love and relationships.
Green – The green version is used by those seeking good health and/or academic success.
Red – Some sources say a red cat indicates a wish for relationship success, others for good health.

The cat is traditionally dressed with a bib, collar and bell (as this is how the wealthy adorned their cats), and it's often holding a symbol of prosperity, such as a coin, a magic money mallet, a koi, gourds, prayer tablets or a daikon radish.

Cats at the harbor of Aoshima Island

Maneki-neko, courtesy of Catster

by Kim Kovacs

Filed under Places, Cultures & Identities

This article relates to The Travelling Cat Chronicles. It first ran in the November 14, 2018 issue of BookBrowse Recommends.

This review is available to non-members for a limited time. For full access become a member today.

Membership Advantages

Reviews
"Beyond the Book" articles
Free books to read and review (US only)
Find books by time period, setting & theme
Read-alike suggestions by book and author
Book club discussions
and much more!
Just $45 for 12 months or $15 for 3 months.