The Internet Era: Did You Know?
This article relates to How the Internet Happened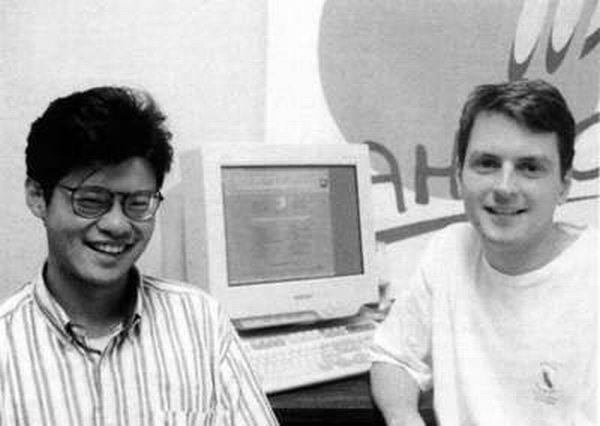 In How the Internet Happened, author Brian McCullough provides details about the visionaries and startups that created the modern iteration of the Internet, giving his account character and dimension and providing a more complete picture of Internet-era history. Here are a few such details:
The term "information superhighway" didn't originally refer to the Internet, but to interactive television. Early visionaries believed that all technologies would converge into a single device, but they believed that the device would be the TV.
The directory project that became Yahoo! was started by two Stanford Ph.D. students, Jerry Yang and David Filo, who were living in a trailer, eating lots of pizza and supposedly writing their dissertations on design automation software. Instead, they competed to collect links of the new websites they'd found, "each trying to outdo the other by finding the coolest new site of the day." (Later, this tradition became Yahoo's "incredibly useful site of the day," a daily highlight of the best the Internet had to offer, for which BookBrowse was once chosen in the early 2000s.) Their index was originally called Jerry's Guide to the World Wide Web; it was later named Yahoo!, which was said to be an acronym for Yet Another Hierarchical, Officious Oracle. "The exclamation point was pure marketing hype."
PayPal, founded by Peter Thiel and Max Levchin, was originally named Confinity. Their concept of creating a form of e-currency had a strong competitor in another startup called X.com, founded by serial entrepreneur Elon Musk. The two companies "competed fiercely for users," but then merged under the name PayPal. The term was adopted by early eBay users in the verb form; sellers would ask buyers to "paypal" them the payment.
When Larry Page came up with the initial concepts behind PageRank, the engine that would become Google, he was working with fellow students in the newly completed William Gates Computer Science building on Stanford's campus. Bill Gates, the founder of Microsoft who had donated $6 million to the building's construction, had predicted that one day a student would found a company and challenge Microsoft for dominance. Little did he know that this company would be conceived of within a building bearing his name.
By 1999 AOL's market cap was $149.8 billion and the company was added to the S&P 500, replacing Woolworth Corporation. At the time, AOL was worth more than Disney, Phillip Morris, IBM, General Motors and Boeing, and it had gained much of its growth through aggressive buyouts and advertising. AOL knew it had a problem, though. It was clear that masses of users would soon stop dialing up over phone lines and start using high-speed broadband to access the Internet. To offset that risk, AOL maneuvered to broadband in the Time Warner merger. However, four days after the historic merger, on January 10, 2000, the stock market hit a peak that it would not see again until six years later: the dot-com bubble had burst. The cover AOL sought from Time Warner didn't pan out. There were significant cultural differences between AOL and Time Warner, but the ultimate failure of the merger was the unwinding of AOL's advertising business. AOL had secured much of their ad revenue from dot-com companies, and the dot-coms themselves were quickly dying off. In 2003, Time Warner dropped "AOL" from its name.
As Apple raced to produce the first iPhone, their engineers had many challenges to overcome with the new touchscreen technology. One of the biggest was how to allow users to more easily type: the screen is small, and fingers are relatively large in comparison. They used an artificial intelligence algorithm that could predict which letter a user is most likely to want next. "For example, if someone types the letter 't,' there is a very high probability that they will want to type 'h' next." Nothing on the screen itself would look any different, but the touch surface area for the "h" would get larger after the user typed "t," providing a bigger target.
This review is available to non-members for a limited time. For full access become a member today.

Membership Advantages

Reviews
"Beyond the Book" articles
Free books to read and review (US only)
Find books by time period, setting & theme
Read-alike suggestions by book and author
Book club discussions
and much more!
Just $45 for 12 months or $15 for 3 months.