Robespierre's Reign of Terror
This article relates to Little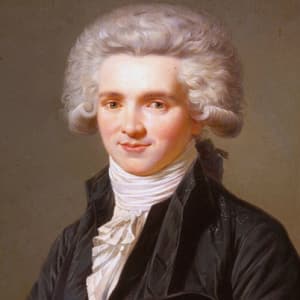 Edward Carey's Little spans some of the most turbulent years in French history. A particularly ghastly chapter focuses on the Reign of Terror, during which little Marie, the novel's protagonist, spends months fearing for her own life and that of her family. Over two centuries later, the French Revolution calls to mind scenes of terror and blood lust.

The Reign of Terror, which began in 1793 following the execution of King Louis XVI and lasted about 11 months, saw the imprisonment of 300,000 people, all of whom were declared to be the enemies of the Revolution. Among them, about 10,000 died in prison awaiting trial and a further 17,000 were executed, mostly with the dreaded guillotine. At the heart of it all was one man—Maximilien François Marie Isidore de Robespierre. Supported by the Committee of Public Safety, the governing body during this tumultuous time, and cheered by the poverty-stricken majority, Robespierre left a trail of blood in his quest for a purified France. Was he a monster, or an idealist caught on the tide of the people's revolution?

In every telling of his early life, Robespierre is painted as a man of unwavering convictions. So strict was his moral code that he was known by many as "The Incorruptible." Refusing to compromise, he spent his early years as a politician demanding equality and freedom for all. He defended the rights of the poorest in French society, with particular sympathies being devoted to illegitimate children. Robespierre's ideals were shaped largely by the time in which he came of age, which was at the height of what is now known as the Enlightenment, a period of immense intellectual and philosophical change across Europe. Robespierre was inspired in particular by the writings of Jean-Jacques Rousseau, who proclaimed that man was born innocent and it is his conscience that should guide his actions.

Single-mindedly persistent, Robespierre rose to prominence as President of the Jacobins, an influential political club that espoused the ideals of the Revolution—liberty and opportunity for all men, no matter their station. From his new perch of power, he demanded that King Lous XVI be tried for treason and that the aristocracy be toppled for the good of the French majority.

These demands soon escalated and the Reign of Terror began in earnest. Though it was the aristocracy that was the alleged target, it is estimated that only about 30 aristocrats were actually killed among the hundreds of thousands of ordinary people that fell alongside them. What started out as a call for freedom and equality became an indiscriminate blood bath—anyone who opposed Robespierre and his supporters became a victim of the revolution. The calls for executions were swift and unforgiving; the trials lacked any rights to counsel or witnesses, and only two outcomes were possible: acquittal or execution.

Despite the egalitarian principles of the revolutionaries, this was a time of tyranny. Robespierre's actions are not so different from history's worst dictators, like Stalin, Hitler and Chairman Mao. Each espoused an ideology that sounded profound, but really unleashed anarchy and promoted bloody revenge. Some historians believe that Robespierre orchestrated the violence of the revolution as a means to rid himself of political opponents, a man driven primarily by ambition. Others insist that he was passionate about justice for the underclass and a man of his time. Revolution was on the minds and tongues of many, as was revenge upon those who sought to stifle it. Robespierre was a judicious man of principle, but he believed that loss of life was justified, and even inevitable, during times of war. The Reign of Terror ended in July 1794 when opposition groups rose up against Robespierre's Committee of Public Safety, leading to the arrest and execution of Robespierre and a number of his followers.


Maximilien de Robespierre as a young man.
Filed under People, Eras & Events
This "beyond the book article" relates to Little. It originally ran in October 2018 and has been updated for the October 2019 paperback edition. Go to magazine.
This review is available to non-members for a limited time. For full access become a member today.
Membership Advantages
Reviews
"Beyond the Book" articles
Free books to read and review (US only)
Find books by time period, setting & theme
Read-alike suggestions by book and author
Book club discussions
and much more!
Just $45 for 12 months or $15 for 3 months.