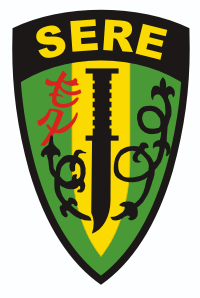 In Elliot Ackerman's novel Waiting for Eden, a pivotal scene is set at the Marine Corp's SERE school.

SERE is an acronym that stands for "Survival, Evasion, Resistance and Escape." Created by the U.S. Air Force at the end of World War II, the program was modeled after the experiences of British and US aviators who were able to evade and escape the enemy. In the 1950s and 1960s, CIA interrogation practices were incorporated. SERE was later shaped into its current format by LTC Nick Rowe who observed the deficiencies of the military's training techniques during his five years of captivity during the Vietnam War. SERE training methods were adopted by the other services with each branch developing their own specific curriculum.

Some level of SERE training is required for all military personnel:

Level-A: Taken by all military personnel during induction, as well as Department of Defense civilians and private military contractors. It provides trainees with a basic ...