Freya, the Norse Goddess of Love, Fertility, War & Death
This article relates to The Boneless Mercies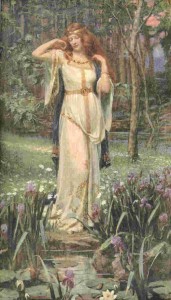 The Boneless Mercies is based on the classic Anglo-Saxon poem Beowulf, a sweeping tale of heroes, monsters and epic battles influenced by the culture and mythology of sixth-century Scandinavia. While there are no gods or goddesses in Beowulf, there are references to mythological heroes like Sigmund of the Völsunga saga (a Norse epic poem) and Weland, the legendary blacksmith. The Boneless Mercies is set in the Norse-inspired Vorseland, and its central protagonist, Frey, is Genevieve Tucholke's take on the Norse goddess Freya, evident in the character's dual roles as a warrior and a bringer of death.

Typically known and revered as the goddess of love and fertility, Freya was also a powerful sorceress and the ruler of Fólkvangr, a field that served as one of the Norse realms of the dead. There were two pantheons in Norse mythology, the Aesir and the Vanir, and Freya, a Vanir goddess, was sent to live with the Aesir gods as part of a peace treaty. Upon her arrival, the Aesir gods and goddesses were so stunned by Freya's beauty that they gave her Fólkvangr as a gift. Odin, the leader of the Aesir, further honored Freya by giving her the right to take half of those who died in battle to live in Fólkvangr.

It's not clear how Freya decided which of the warriors to take, but she was allowed to choose her half first, leaving the remaining behind to be taken to Valhalla, a hall of the slain ruled by Odin himself. While the myths say that those chosen to reside in Valhalla continued to train for battle in order to aid Odin during Ragnarök (essentially the Norse apocalypse), the stories do not say how those who were chosen for Fólkvangr spent their afterlife. Perhaps they enjoy a well-earned rest with their loved ones, the faithful wives and maidens that the Norse believed Freya accepted into Fólkvangr to be with their husbands and lovers, or perhaps, as some scholars speculate, they also trained to be led by Freya herself into battle in her incarnation as the goddess of war.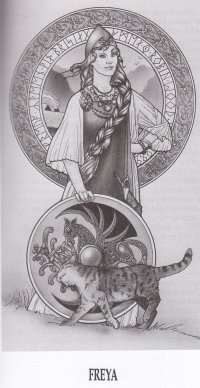 Although most commonly depicted in a flowing gown with long, golden hair and wearing Brísingamen, her bejeweled necklace, Freya is sometimes represented in her warrior goddess form. In these images she may be shown standing beside her chariot, a small blade at her waist and her hand on her shield, with her helm and spear. Although no stories exist today telling of Freya in battle, her association with the soldiers whom she took to Fólkvangr likely resulted in her recognition as a war goddess.

The other Mercies also seem to be connected to Norse figures or concepts: the stoic, secretive, one-eyed Ovie is clearly meant to represent Odin; Juniper, the former sea witch, seems to practice seiðr, Freya's own brand of sorcery; and Runa, the group's archer, likely represents Ullr, the Norse god of archery who was also considered to be the personification of glory itself. These references to Norse legends expand upon the culture and mythology of Beowulf, bringing these ancient tales to a modern audience that may be more familiar with Thor and Loki (due to their appearance in popular superhero films) than with Old English poetry.
Norse Goddess Freya wearing Brísingamen, courtesy of Norse Mythology for Smart People
Norse Goddess Freya with shield, dagger and helmet, courtesy of Valkyrie Tower
Filed under Places, Cultures & Identities
This "beyond the book article" relates to The Boneless Mercies. It originally ran in October 2018 and has been updated for the April 2020 paperback edition. Go to magazine.
This review is available to non-members for a limited time. For full access become a member today.
Membership Advantages
Reviews
"Beyond the Book" articles
Free books to read and review (US only)
Find books by time period, setting & theme
Read-alike suggestions by book and author
Book club discussions
and much more!
Just $45 for 12 months or $15 for 3 months.