Beowulf
This article relates to Grendel's Guide to Love and War
Grendel's Guide to Love and War is a contemporary retelling of the epic poem Beowulf. In the author's note at the end of the novel, A.E. Kaplan says that when she first read Beowulf, she remembers feeling sorry for Grendel. "The poor fellow is minding his own business, living in his lake with his mother, when Hrothgar and company show up and ruin the neighborhood. He's stuck with these inconsiderate bastards who keep him up all night with their drunken carousing until one evening, thoroughly fed up, he arrives at one of their parties slavering with rage and eats everyone." In Grendel's Guide to Love and War, Tom Grendel is a 17-year-old who mows neighborhood lawns, and who must defend his quiet neighborhood from a group of hard-partying teenagers. Tom is an affable dork, but in the original epic poem, Grendel is anything but lovable.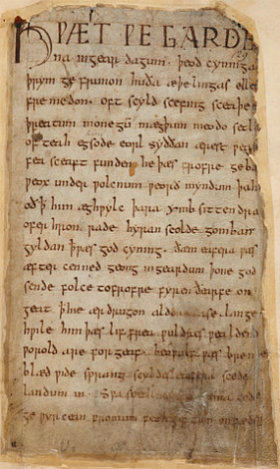 Set in sixth-century Scandinavia, Beowulf clocks in at over 3,000 lines and evokes a pre-Christian, Germanic warrior culture. Beowulf is the earliest surviving epic poem written in Old English and was most likely passed on orally for thousands of years before being written down. No one can be sure when Beowulf was first written down but the earliest surviving version appears to date to around 1000 AD, contained in a single manuscript now housed in the British Library.

In the story, the Danish King Hrothgar rules from his palace, the Hall of Heorot. Hrothgar and his men have been terrorized for twelve years by a monster named Grendel, a descendant of the cursed race of Cain. The Danes just want to party, but Grendel, upset by the noise, keeps raiding their hall by night and devouring them. Only Beowulf is strong enough to challenge Grendel in an epic fight, which ends when Beowulf rips Grendel's arm off and the creature flees.

Beowulf himself becomes king, but he hardly has time to celebrate his victory before Grendel's mother, none too happy about her son's treatment, arrives to show her displeasure. She murders Hrothgar's most trusted warrior and disappears again. Beowulf and his men track her to a cave under a lake, where he finds Grendel's body along with the remains of Hrothgar's men. There's another epic battle, this time between Beowulf and Grendel's mother. Beowulf eventually beheads her with a magical sword.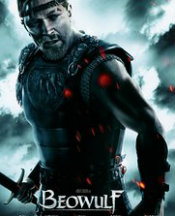 The last phase of the poem takes place fifty years later. This time, a ferocious dragon begins to attack the countryside after a slave steals a cup from the dragon's hoard. Beowulf and his soldiers ride out to fight the dragon, but all of his men flee, except his cousin Wiglaf. Together, they manage to kill the dragon, but only after Beowulf sustains heavy wounds. Not long after, he dies, and is burned on a funeral pyre as his people extol his heroic exploits and give thanks for his greatness.

Throughout the centuries, Beowulf has inspired, directly or indirectly, every major fantasy writer from J.R.R Tolkien to J.K. Rowling. Tolkien was one of the first scholars to write seriously about Beowulf in a lecture called "Beowulf: The Monsters and the Critics." He even borrowed the name for "Middle-Earth" from the Old English word for "earth," "middan-geard." In the fourth chapter of the Harry Potter saga, The Goblet of Fire, Harry faces a dragon, similar to the monster that Beowulf kills. And some suggest that the name "grindylow," the underwater species that torments Harry during the second Triwizard task, is derived from Grendel. There's no telling just how far the influences of Beowulf stretch, but if Grendel's Guide to Love and War is any indication, there's still plenty of material to mine from its depths.


Picture of manuscript folio of Beowulf from British Library
Picture of cinematic adaptation of Beowulf from Imdb.com

Filed under Books and Authors
This article relates to Grendel's Guide to Love and War. It first ran in the May 17, 2017 issue of BookBrowse Recommends.
This review is available to non-members for a limited time. For full access become a member today.
Membership Advantages
Reviews
"Beyond the Book" articles
Free books to read and review (US only)
Find books by time period, setting & theme
Read-alike suggestions by book and author
Book club discussions
and much more!
Just $45 for 12 months or $15 for 3 months.