The Legacy of Slavery and Prison Labor
This article relates to American Prison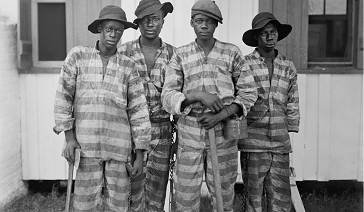 With a Trump-appointed Justice Department pushing for harsher sentences after a brief period of relative leniency during the Obama Administration, the explosion of the prison population has become an increasingly relevant social and political issue. America has the highest incarceration rate of any country in the world (with 2.3 million people currently living in its prisons, jails, and other detention centers), and one in five criminal offenses is related to drugs. It is common to see this as a recent phenomenon—a change due to "tough on crime" policies such as three strikes and mandatory minimum sentences. These laws undoubtedly contributed to the recent increase in rates of incarceration, but they are also part of a long-running current in American criminal justice: namely, racist policies designed to imprison large numbers of African-Americans.

As the NAACP has shown, African-Americans are incarcerated at a rate five times higher than whites, and tools designed to alleviate prison overcrowding often reinforce the very biases that lead to higher rates of imprisonment for black Americans. This is only the most recent expression of racially driven policies, however; since the end of the Civil War, many laws and policies have disproportionately targeted African-Americans.

"The end of enslavement posed an existential crisis for white supremacy, because an open labor market meant blacks competing with whites for jobs and resources and—most frightening—black men competing for the attention of white women," explains author and cultural critic Ta-Nehisi Coates in his essay "The Black Family in the Age of Mass Incarceration." In the ashes of the defeated South, politicians passed laws that were almost universally applied to freed slaves. These included vagrancy laws, which targeted and imprisoned African-Americans who were unable to find work during Reconstruction. In 1876, Mississippi passed a law classifying the theft of over $10 or cattle of any value as grand larceny. Laws like these led to vertiginous increases in rates of imprisonment for black men, who were then leased out as essentially slave laborers on cotton plantations.

The exploitative practice of convict leasing in the late 19th and early 20th centuries allowed white businessmen to continue profiting off the labor of black men—provided there was a steady supply of incarcerated inmates. Convict leasing by government-run prisons was a precursor to the establishment of for-profit prisons, which existed before, but proliferated in the 1970s and 80s. In these prisons run by private companies, the money gained from prisoners' labor has become more valuable than rehabilitating people for reentry to society. Most public prisons also require able-bodied inmates to work--many in custodial, maintenance, or food service but some prisons also offer outside services such as telemarketing, positioning them as domestic outsourcing at offshore prices. Pay averages 63 cents per hour. Some argue that this is justified as a way to offset the cost of incarceration but any money earned is more than clawed back by a system that allows prisoners to be charged up to $17 to make a 15 minute phone call. In August 2018 there was a nationwide strike among prisoners protesting these very issues.

And while the War on Drugs launched by Richard Nixon's administration directly influenced the recent increase in black incarceration rates—due to many factors including different sentencing for crack versus powder cocaine (with crack-use being more prevalent among the poor, who are disproportionately black and cocain-use popular among the white and wealthy)—this wasn't the first drug war designed specifically for punishing African-Americans.

In 1914, the federal government passed the Harrison Narcotics Tax Act, restricting the sale of cocaine and opiates. As Coates recounts, "The New York Times published an article by a physician saying that the south was threatened by 'cocaine-crazed negroes,' to whom the drug had awarded expert marksmanship and an immunity to bullets…." This fear-mongering that painted African-Americans as drug-fueled beasts would repeat itself in the 1980s and '90s with talk by the Clinton Administration of "super-predators" that should be locked away from society. "The justification for resorting to incarceration was the same in 1996 as it was in 1896," Coates explains.

As the U.S. grapples with the current issue of mass incarceration and its devastating effects on job prospects, voting rights, and myriad other negative impacts for those in the system, it serves the discussion to recall the historical legacy of why we lock up who we do, and how this affects society at large.


Convict leasing chain gang, courtesy of World Atlas
Filed under People, Eras & Events
This "beyond the book article" relates to American Prison. It originally ran in September 2018 and has been updated for the June 2019 paperback edition. Go to magazine.
This review is available to non-members for a limited time. For full access become a member today.
Membership Advantages
Reviews
"Beyond the Book" articles
Free books to read and review (US only)
Find books by time period, setting & theme
Read-alike suggestions by book and author
Book club discussions
and much more!
Just $12 for 3 months or $39 for a year.