Sitting Bull
This article relates to The Removes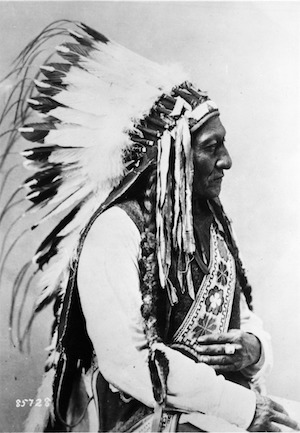 Tatjana Soli's historical fiction novel, The Removes, culminates at Custer's Last Stand, a battle between the U.S. 7th Cavalry and Native American tribes that took place near the Little Bighorn River in Montana in 1876. Sitting Bull was the chief of the entire Sioux nation at the time, and his vision of success over the soldiers spurred his warriors on to victory.

Sitting Bull was born in 1831 in the Grand River Valley (now South Dakota). He was a member of the Hunkpapa Lakota tribe, which in turn is part of the Sioux Nation. He was named Jumping Badger at birth, but also nicknamed Hunkesi – "Slow" – because of his thoughtful, deliberate nature, evident at an early age. At age 14 he joined his first war party against a rival clan and fought with such bravery and honor that he was awarded his adult name – Tatanka Yotanka – which translates into Buffalo Bull Who Sits Down, which English-speakers translated into the name that fills our records: Sitting Bull.

The Hunkpapa were located on the western edge of the Lakota territory and were relatively isolated from the encroaching European population. This began to change around 1862, when other tribes, defeated by the U.S. Army, were driven westward. It's believed that it was during this time that Sitting Bull resolved to keep his people away from the white man's world as much as possible and to never sign a treaty that would force them to live on a reservation. As he crossed paths with the soldiers with increasing frequency, he studied their ways of fighting and their strengths and weaknesses. He became widely respected for his bravery and insight, and in 1868 was named the head chief of the entire Sioux Nation – the first person to be so revered. He also attracted a following of Cheyenne and Arapaho warriors who were drawn by his disdain for treaties and reservations.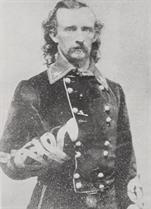 His skirmishes with the army continued, and in 1873 he tangled with General Custer's forces for the first time, as the latter were in the Montana Territory protecting those who were surveying for the Northern Pacific Railroad. Things came to a head when Custer confirmed the discovery of gold in the Black Hills in 1874. The area was sacred to many Native American tribes and had been marked off-limits to white settlement in the Fort Laramie Treaty of 1868. The lure of gold was too strong, however, and prospectors began to flood the wilderness (often with fatal consequences). The government's solution was to void the treaty, and the Commissioner of Indian Affairs declared that any Native Americans not settled on reservations by 31 January, 1876 would be considered hostile.

In March of that year, Sitting Bull summoned all warriors to an encampment at the nearby Rosebud Creek and held a Sun Dance ritual to help them determine what to do. The chief slashed his arms 100 times as a sign of sacrifice and danced for 36 straight hours without food or water, finally telling his followers that he'd had a vision in which he saw soldiers falling into the Lakota camp "like grasshoppers falling from the sky." This was interpreted as a positive sign and, inspired by the prophecy, war chief Crazy Horse led 500 warriors in a surprise attack on U.S. forces. The tribe, already the largest on record (some estimate over 10,000 men, women and children) celebrated by moving camp to the Little Bighorn River, where they were joined by another 3,000 warriors who'd left their reservation to follow Sitting Bull. Custer underestimated their numbers and thus he and many of his troops were slaughtered in a failed attack on 25-26 June, 1876.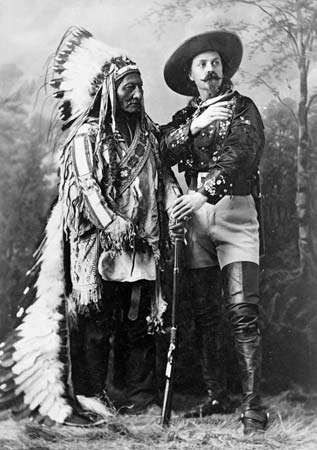 Sitting Bull fled with his tribe into Canada following the battle, where they remained for two years. They were unable to find enough buffalo to support the group, however, and in 1881 Sitting Bull led his followers to Fort Randall in the South Dakota Territory, where he surrendered to the U.S. Army. After two years' incarceration he was released to the Standing Rock Reservation. He was then permitted in 1885 to join the Buffalo Bill Cody Wild West Show, where he earned $50 per week for riding once around the arena, plus any money he could raise selling his autograph and photograph. He stayed only four months, horrified by the poverty he saw in the cities. He distributed his earnings to the impoverished and returned to his people saying, "I'd rather die an Indian than live a white man."

A new religion called the Ghost Dance began to spring up in the 1890s, espoused by a Northern Paiute named Wovoka, who claimed Jesus Christ would return as a Native American and drive out the whites. The US government kept a close eye on the movement, concerned that it would encourage rebellion. Sitting Bull had remained influential and allowed the Ghost Dance to flourish at Standing Rock, causing uneasiness to those in charge, and on 15 December, 1890 the government sent 43 Lakota police to arrest him at his cabin. The chief resisted and his supporters fought back, shooting at the police and beginning a fire fight. Sitting Bull was killed in the ensuing exchange along with eight police officers and seven other Sioux. His body was buried without ceremony at Fort Yates in North Dakota, and re-interned in 1953 at Mobridge, South Dakota, marked with a granite column.
Images: Sitting Bull; Custer; Sitting Bull and Buffalo Bill Cody
Filed under People, Eras & Events
This "beyond the book article" relates to The Removes. It originally ran in August 2018 and has been updated for the August 2019 paperback edition. Go to magazine.
This review is available to non-members for a limited time. For full access become a member today.
Membership Advantages
Reviews
"Beyond the Book" articles
Free books to read and review (US only)
Find books by time period, setting & theme
Read-alike suggestions by book and author
Book club discussions
and much more!
Just $45 for 12 months or $15 for 3 months.