Saddam Hussein
This article relates to The President's Gardens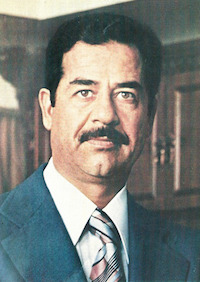 Saddam Hussein, Iraq's dictator, ruled the country with an iron fist under the guise of numerous grandiose titles including President and The Knight of the Arab Nation, for nearly twenty-five years (1979-2003). In The President's Gardens, the character Ibrahim's most surreal job is to bury the people killed by the President's retinue almost every day. Such horrific atrocities were pretty commonplace under Hussein's regime, with the dictator disposing of people who showed even the slightest disloyalty toward him.

During his tenure he maintained a facade of impenetrability, always having his hair colored and, because he walked with a limp, insisting on being filmed only for a few short minutes at a time. He might have hidden his physical frailties from the public, but until the end he sported three dark blue dots on his right wrist, tattoos that many rural children had and that marked his countryside upbringing.

Saddam Hussein was born in 1937 in a village near Tikrit. Historical records differ as to whether his father abandoned the family or died when he was still very young, but the end result was the same: he grew up rudderless and eventually was absorbed into a relative's family. After leaving school he studied law for three years before dropping out to join the Arab Socialist Ba'ath Party, a political organization founded in Syria which espoused Ba'athism (meaning "renaissance" or "resurrection") and sought unification of the Arab world into a single state.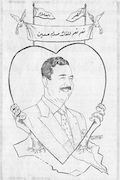 The young Hussein's first taste of power and violence came when he was 22 and was commissioned by the Ba'athists to assassinate the Iraqi prime minister, Abd al-Karim Qasim. The attempt was unsuccessful and he fled, wounded, to Syria and, subsequently Egypt, where he began the study of law. He completed his studies in Baghdad after the Ba'ath party came back to rule briefly in 1963. The fulcrum of power seesawed back and forth quite precariously in those years until the Ba'ath cemented their rule for a while in 1968. While initially Hussein worked to organize the party's militia and nationalize the country's oil supply, he lusted for absolute power and effectively pushed aside President Ahmad Hasan al-Bakr. The year was 1979 and Hussein became President.

Thus began a series of war excursions aimed at expanding power in the region and enhancing Hussein's stature at home. He invaded Iran in 1980, a war that would cripple both countries and drag on till 1988. In 1990, he grew restless again and, eyeing neighboring Kuwait's plentiful oil fields, invaded it. The excursion was cut short by a joint military operation lead by the United States under President George H. W. Bush's command. Hussein had his knuckles rapped and heavy sanctions imposed in addition to severe restrictions on the development of weapons of mass destruction.

In addition to his attacks on other countries, Hussein held on to power by ruthlessly eliminating and killing those whom he suspected of treason.

In 2001, in the wake of 9/11, the United States again attacked Iraq arguing that the dictator would supply nerve gas and other biological weapons to rogue terrorists, even though the post-invasion landscape showed that the program Hussein launched had been scaled down and that he, indeed, had mostly been following UN orders. Baghdad fell to the U.S. armed forces and Hussein fled. He was eventually found hiding in an underground bunker in the countryside and faced trial through an Iraqi War Tribunal. He was found guilty and hanged in 2003, maintaining till the very end that he was President and had done nothing wrong.
Saddam Hussein in 1979 when he became President
Propagandist art to glorify the President.
Filed under People, Eras & Events
This "beyond the book article" relates to The President's Gardens. It originally ran in August 2018 and has been updated for the April 2019 paperback edition. Go to magazine.
This review is available to non-members for a limited time. For full access become a member today.
Membership Advantages
Reviews
"Beyond the Book" articles
Free books to read and review (US only)
Find books by time period, setting & theme
Read-alike suggestions by book and author
Book club discussions
and much more!
Just $45 for 12 months or $15 for 3 months.