Realizing her dreams of becoming a Hollywood actress are dwindling, Tammy Treeborne - a central protagonist in Treeborne - decides to indulge her passion for the movies in another way, by opening her very own drive-in theater in Elberta, Alabama.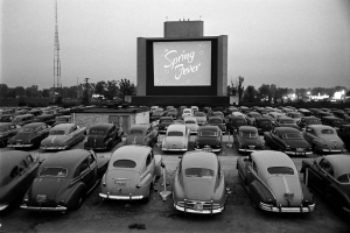 The drive-in theater is an American icon, itself immortalized in countless classic movies (Grease, Twister) and songs (The Beach Boys' "Drive-In," David Bowie's "Drive-In Saturday").

The first patented drive-in was developed by Richard Hollingshead in New Jersey. It's said that Hollingshead was inspired to develop the idea for a different kind of movie theater to help his mother. As a somewhat large lady, Mrs. Hollingshead found the average indoor cinema seats restrictive and uncomfortable. So she wouldn't be deprived of the cinema experience, her son ingeniously decided to put his mother in his car, place a projector on the hood, and tie two sheets to trees in his yard. This solution seemed to work great.

For the next few years,...