The Stonewall Riots and the Movement for LGBTQ Equality
This article relates to Tomorrow Will Be Different
In the early morning hours of June 28, 1969, the Stonewall Inn was raided by the New York City Police Department, ostensibly for operating without a liquor license. This was a flimsy pretense, however, since the New York State Liquor Authority (SLA) refused to grant liquor licenses to any bar that served homosexual customers, and the police department routinely used this discriminatory practice as a reason to arrest LGBT patrons. Shortly before this raid, in fact, numerous bars in Greenwich Village that served the LBGT community had been raided. And since the mafia had stepped into the void left by the SLA's refusal to grant licenses, gay bars frequently acted as fronts for the mob's other activities, which was another driving force for this raid, as chronicled in Tristan Poehlmann's The Stonewall Riots: The Fight for LGBT Rights.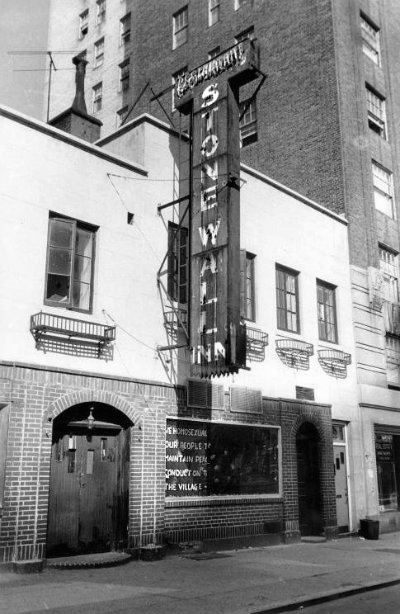 But on this night, the crowd didn't disperse quietly, hoping to avoid the publishing of their names in newspapers for being arrested at a gay bar. Driven to mob-tied saloons and constantly harassed by police, the patrons at the Stonewall Inn began to scuffle with the police and fight back.

The Stonewall Inn was a welcoming place for transgender people, who were often turned away at other gay bars, according to Dick Leitsch, who witnessed the ensuing events. As the police began roughly loading transgender women into a paddy wagon, the assembled crowd outside the bar began throwing items, including coins, and calling them dirty cops. One transgender woman was beaten with a nightstick as the chorus of boos became louder. Another woman being dragged into the wagon cried out, "Why don't you guys do something?"

At that point, the crowd broke into a frenzy, throwing debris and fighting back against the police. But it didn't end there—demonstrations flared for the next six days, as members of the LGBT community protested the constant harassment and discrimination that defined public life in New York for homosexual and non-gender-conforming individuals. This series of demonstrations, often called the Stonewall Riots, marked the beginning of organized efforts to demand and secure equal rights for LGBTQ Americans and to end discrimination based on sexual orientation and gender identity.

It was a long process full of steps forward and backward, which continues to this day. Although Wisconsin became the first state to outlaw discrimination based on sexual orientation in 1982, it took many years for other states to begin enacting protections. It was also many years until courts interpreted the federal law Title IX, which bans discrimination based on sex, to apply to non-gender-conforming people. During the Clinton administration, the federal government passed "Don't Ask, Don't Tell," which allowed members of the military to serve as long as they refrained from openly expressing their sexual orientation, and the Defense of Marriage Act (DOMA), which outlawed same-sex marriage.

By the early 2000s, Vermont had legalized civil unions and Massachusetts became the first state to legalize gay marriage, but it wasn't until 2011 that Don't Ask, Don't Tell was repealed allowing LGBTQ personnel to serve openly, and it took until 2013 for the Supreme Court to strike down the section of DOMA that denied federal benefits to same-sex couples. And it was only in 2015 that the Court ruled that states cannot ban same-sex marriage.

The battle for equal rights that began at Stonewall continues, as there are 28 states with no non-discrimination laws in regards to employment or housing as of 2018. That means that LGBTQ Americans in 28 states are at risk of being fired or evicted based on their gender identity or sexual orientation. Even as marriage rights have expanded, basic protections against discrimination are still lacking throughout the United States.

In 2016, President Obama designated the Stonewall Inn and surrounding area as the Stonewall National Monument, the first national monument to LGBTQ rights. Despite this recognition, and despite the pivotal role that transgender persons in particular played in demanding LGBTQ equality, rights for transgender individuals continue to be undermined, such as with a proposed ban on military service in 2017. The Stonewall Riots inspired much progress towards equal rights for the LGBTQ community, but it is still very much a continuing struggle.


Picture of Stonewall Inn by Diana Davies from New York Public Library. On the window: "We homosexuals plead with our people to please help maintain peaceful and quiet conduct on the streets of the Village."

Filed under Society and Politics
This "beyond the book article" relates to Tomorrow Will Be Different. It originally ran in April 2018 and has been updated for the March 2019 paperback edition. Go to magazine.
This review is available to non-members for a limited time. For full access become a member today.
Membership Advantages
Reviews
"Beyond the Book" articles
Free books to read and review (US only)
Find books by time period, setting & theme
Read-alike suggestions by book and author
Book club discussions
and much more!
Just $12 for 3 months or $39 for a year.