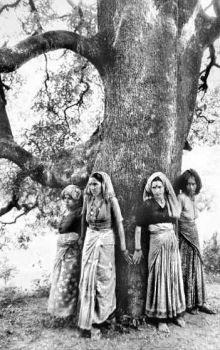 In The Overstory, a few of the characters become environmental activists in order to save the wealth of forests in the American West and Pacific Northwest. In the novel, Richard Powers refers to many save-the-trees efforts around the globe, including the Chipko Andolan in the 1970s in the Himalayan region of India.

Chipko Andolan literally translates to Stick (as in cling) Protest, as the mostly women who took part in the struggle against logging companies stood their ground by wrapping their arms around the trees that were scheduled to be felled.

The Chipko Andolan was born in the northern Indian state of Uttar Pradesh (the region of the Himalayas where it originated is now part of a new state, Uttarakhand). India and China went to war in the early '60s. An extensive network of roads giving access to the rugged forests at the foothills of the world's tallest mountain range, the Himalayas, was a leftover from this conflict. Over the next decade, the region saw logging companies ...