How to Get a Green Card
This article relates to The House of Broken Angels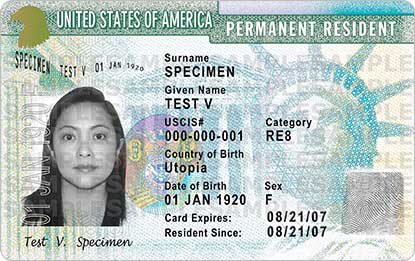 Like millions of others, several of the characters in Luis Alberto Urrea's The House of Broken Angels emigrated from Mexico to the United States, some illegally, some following U.S. protocol to obtain permanent residency. Immigration has become a particularly contentious topic over the last few of years but most of us have little understanding of the process of becoming a legal immigrant, so this a good time to take a look at whistle-stop tour through this extremely complex topic.

Over time a once simple immigration process has become lengthy and complex. The United States' borders were open to all during the country's first century of existence. This began to change with the Chinese Exclusion Act of 1882, which prohibited immigrants from China, and over the subsequent 40 years more populations were excluded. In 1924 Congress enacted a country-based quota system which dramatically reduced the number of accepted individuals. The quota system was further revised by President Lyndon Johnson in 1965 to favor those with family in the country as well as those with skills that enhanced their employability.

Today, people born outside of the USA make up about 14% of the population. In spite of that seemingly high number, it's relatively difficult to get a Permanent Residence Card (aka "Green Card") which allows one to remain legally in the United States; many more apply for Green Cards than receive them, and the wait for some can take decades.

Before discussing the Green Card process, let's take a quick glance at immigration as a whole:

There are an estimated 11.5 million undocumented immigrants in the U.S., of which about 60% are from Mexico. In addition, each year, the US Citizens and Immigration Service (USCIS) processes about 6 million applications for legal residence. These fall into three broad categories:
Requests for temporary work visas.
Requests to become a lawful permanent resident (Green Card holder).
Requests to be naturalized as a U.S. citizen.

Temporary Work Visas
There are many categories of temporary work visas, some have caps on how many visas can be issued in a year, some do not. In the region of 500,000-800,000 temporary visas are issued per year. These visas generally only allow the admitted person to be employed by the sponsoring organization, usually a company. Because temporary visas need to be renewed regularly (depending on the category anywhere from every year to every seven years) many of the annual visa requests are likely to be renewals of existing visas. Temporary visas generally allow entry to spouses and children under 21 but some restrict spouses and children from working, and those that do allow dependents to work are subject to change.


Naturalized Citizens
Over the last decade, an average of 700,000 people have become naturalized citizens of the USA each year (about one person for every 500 existing citizens). As of 2015, there were about 20 million naturalized citizens in the U.S. representing 44% of the foreign-born population in the USA. In 2015, 15% of newly naturalized citizens were of Mexican origin, down from 21% in 2000. The country of origin for the next largest group was India at 6%. Except for a few corner-cases, it is necessary to have been a Green Card holder for a number of years before applying to become a citizen.


Lawful Permanent Residents (Green Card holders)
In 2015, there were about 12 million lawful permanent residents in the U.S. (aka Green Card holders). About three-quarters of LPRs are eligible to apply for U.S. citizenship having lived in the country continuously for at least five years, but only a small fraction apply to become citizens.

Key advantages of Green Card status over a temporary work visa are the ability to change employers and to live and work anywhere in the U.S. To retain their LPR status holders must reside permanently in the USA and renew their Green Card every ten years. LPRs who lives outside the USA for more than a year are generally considered to have abandoned their permanent resident status, even if their Green Card has not expired.

The wait time to get a Green Card can be less than a year or more than a decade, depending on a person's status. In any given year about one million Green Cards are issued, at least half going to those already living in the country--e.g. temporary visa holders applying for permanent resident status and, we assume, renewals of existing Green Cards, although the stats are not clear on this point.

The largest number of Green Cards are issued to those with immediate family in the country. In theory, any spouse, minor child or parent of a U.S. citizen can apply and there's no cap to the number that are issued each year. Provided the person requesting legal status hasn't committed a crime or on a terrorist watch list they're generally granted permanent status, but there are notable exceptions, such as if USCIS believes the marriage is a sham. Green Card holders are eligible for Social Security Benefits but only after having worked in the U.S. for the equivalent of 10 years.

Adult children of citizens, siblings and other extended family may also apply to become LPRs, but they're put on a wait list. How quickly they can receive their Green Card depends on their country of origin. According to the American Immigration Council: "As of May 2016, for most countries, unmarried children of U.S. citizens must wait more than five years and siblings of U.S. citizens must wait more than 10 years. People from countries with high levels of immigration to the United States—Mexico, China, India, and the Philippines—generally have longer waiting times. For example, married children of U.S. citizens from Mexico must wait more than 20 years for a visa to become available, and Filipino siblings of U.S. citizens currently wait about 25 years."

Green cards are also issued to employer-sponsored immigrants (who are usually already in the U.S. on a temporary work visa.) This program is generally only open to highly skilled foreign nationals, who often work in the technology field. The sponsoring company must agree to take financial and legal responsibility for the individual and must indicate that no qualified American candidates could be found for the vacant position. Changing jobs once an employer has sponsored a Green Card application is risky as it usually resets the application process, which must then be started afresh by the new employer, assuming they are willing to sponsor their new employee through the process. This leaves applicants very vulnerable to layoffs and, in effect, ties them to their sponsoring company until the Green Card process is complete--which can take years.

A large proportion of temporary visa holders are from India; and they have to wait the longest to get Green Cards. This is because Congress allows no single country to receive more than 7% of Green Cards issued in a year, and caps the number of employment-based Green Cards issued annually to 140,000. According to The New York Times, "in June 2015, the latest year for which official data is available, about 300,000 Indians, including spouses and children, were waiting for their permanent residency cards. Indians in the green-card process since 2008 are only now receiving them." Because of this slow process, and oftentimes the restrictions on spouses and children being able to work on a temporary visa, many skilled workers leave America for countries where they can more easily get permanent resident status and thus improve their standard of living. The situation is particularly tough for children as, if their family's Green Card is not approved by the time they are 21 years old, they are not eligible for legal residency and thus must leave the country, even though they may have spent much of their lives in the U.S.

Green Cards may also be issued to "persons of extraordinary ability in the arts, sciences, education, business or athletics, outstanding professors and researchers, and managers and executives of multinational companies."

Additionally, individuals who invest more than $1 million in a US business are eligible to apply for a Green Card. Currently 140,000 visas of this type are granted annually, with another 5,000 set aside for employer-sponsored immigrants who do not have advanced skills.

Finally, for those who have no US-based family and no employer-sponsored job, there are 50,000 visas available through the Green Card Lottery, which is open to any foreign national who was born in an under-represented county. Each year the United States ranks other nations based on the number of applications submitted over the previous five years, and those with the fewest are given priority; consequently, the list of eligible countries changes, as does the application period (although it's generally late in the year). A person can only apply for this category of visa once per year, and applications aren't carried over from year to year. Winners of the lottery aren't notified; they must check the lottery's web site periodically to see if they were successful. Being selected doesn't necessarily mean that the person will receive a Green Card, as the US awards more spots than are available because selected applicants don't always meet all criteria (e.g., they must prove they'd be able to support themselves once arriving in the United States). Nevertheless, each year the U.S. runs out of visas, leaving some lottery winners with no option but to try again another year.
by Kim Kovacs
Filed under Society and Politics
This "beyond the book article" relates to The House of Broken Angels. It originally ran in April 2018 and has been updated for the March 2019 paperback edition. Go to magazine.
This review is available to non-members for a limited time. For full access become a member today.
Membership Advantages
Reviews
"Beyond the Book" articles
Free books to read and review (US only)
Find books by time period, setting & theme
Read-alike suggestions by book and author
Book club discussions
and much more!
Just $12 for 3 months or $39 for a year.